HACRONYMS
The letters of your hometown can be used to form sentences that are more than a little revealing. So if you're ready to be impressed or insulted, and maybe even come up with a few of your own, Have A Crack, Read On – Now You're Much Smarter.
By David Astle*
Eden, the NSW fishing town located just above the Victorian border, doesn't owe its name to that glorious garden where Adam did the deed, but an acronym: Everyone Drunk Every Night.
Or so say critics in Eden's sister town, Merimbula. Twenty kilometres further north, Merimbula is a different kettle of commercial fish. Instead of blue-collar tuna brokers, the town is wall-to-wall sun-seekers. Like Jesus, you've either got a booking at Christmas time – or you make your own arrangements.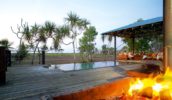 So here's how the merry drunks of Eden can get merrier. All they need do is explain how the letters of Merimbula stand for Melbourne Elite Regularly Invade Modest Beach Under Lease Agreement.
Such a snipe is known as a "hacronym", where any town or suburb can represent a less than glowing description. ALICE, say, is A Locale In Central Emptiness. While MELBOURNE is Major Events, Lousy Beaches, One's Umbrella Required Nearly Everywhere.  Now and then the phrase comes out neutral (Home Of Boags And Rare Tigers), descriptive (Host Of Boats After Racings Thrills), or downright praiseworthy (Haven Offering Balm Against Rampant Tumour.) But somehow snideness seems to be the stuff of hacronyms. Here's more evidence:
BRISBANE
Before Rise In Status, Barely A Nightclub Existed
CAIRNS
Cashed Americans In Residence Needing Snorkels
SYDNEY
Sea? Yes. Decorum? No. Egos? Yes.
BYRON BAY
Bronzed Youths Really Only Need Board And Yoghurt
BROOME
Booming Resort On Ocean Mesmerises Easterners
PERTH
Parochial Eagles Rule This Heap
DARWIN
Drastically Anticipate Rain When It's November
TAMWORTH
Town Adores Music Week – Or Really Tries Hard
BAROSSA
Booze Artists' Renowned Oasis Serving Sauvignons Aplenty
And while we're at it, plenty of suburban icons are crying out for the hacronym treatment. Here are a few Sydney samples:
BONDI
Burnt Or Near-Drowned Immigrants
PARRAMATTA
Publicists Are Rating River As More Appealing Than Tivoli Alps
GLEBE
Gaggia Lounges Entertain Bohemian Elite
WHALE BEACH
Where High-Achieving Lawyers Eventually Become Eco-Activists Classifying Headlands
* David Astle is the author of Cassowary Crossing – A Guide To Offbeat Australia.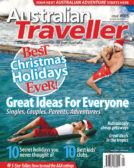 Enjoy this article?
You can find it in Issue 5 along with
loads of other great stories and tips.