'Your Shot' Winner: Cable Beach, WA
September 7, 2012
And the winner of our 'Your Shot' reader photo competition this issue is….
STUNNING SILHOUETTE
"Riding the famous camels along Cable Beach is a unique event that is experienced by so many and remains embedded as a wonderful holiday highlight.
There are multiple teams of camels providing rides and the most popular of all are the sunset tours along the pristine beach. The train of camel riders traverse the sand northwards past a multitude of 4WDS parked on the beach, while locals sipping on coldies in deck chairs watch on.
As the sun was setting over the Indian Ocean I tried to capture the feeling but also isolate the riders from other vehicles – so found a vacant area of beach between deck chairs and waited for the camels to walk past on the edge of water, being silhouetted by the setting sun. This was taken with a Nikon D300 at 6.57pm on the 10 Sept 2011. Shutter speed 1/4000s; f5.6; ISO 200; and focal length18mm."
 – Andrew Dickman, Flagstaff Hill, SA
CALLING ALL AUSTRALIAN TRAVELLERS! 
Think you've got a winning reader photo? Send us the best Australian travel image you've ever captured for your chance to win a great prize. In the first instance, email a low-res pic to: 
photo@australiantraveller.com
AUTHOR
COMMENTS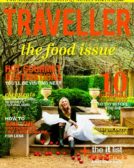 BUY THE ISSUE
This article appeared in Issue 46 of Australian Traveller.
The AUG/SEP The Food Edition
* 10 Regional Restaurants To Try Before You Die
* Cheap Eats - The insiders guide to Sydney's cultural gems.
* How to sail the whitsundays like a millionaire for less.
* Melbournes best new eats
* Beatiful Berry. Sydney's secret weekend escape.
* Hot Gormet Destinations You'll Be Visiting Next
Plus
Phillip Island, Esperance, Gulargambone
Reviewed
The Burbury, The Denman, The Agrarian Kitchen, Speed Grazing, The Mill on Morrison
BUY THIS ISSUE