77: Join the Junior Eco Rangers on Fraser Island (Qld)
December 9, 2013
The world's largest sand island, Fraser Island is heaving with wildlife, making it the perfect place for kids to get up close and personal with some unique little critters under the watchful eye of the
local experts.
Kingfisher Bay Resort's Junior Eco Rangers program immerses kids in this unique environment with activities like exploring and learning about mangrove colonies, canoeing, bushwalking, searching for bats, sugar gliders and frogs, singing songs around a campfire or gazing at the stars. Sessions run on Friday nights and Saturday afternoons and evenings during the school term, with daily programs during school holidays. There are kids-only and all-ages programs in the afternoons, and evening programs for ages five to 14.
76 << Waterfall Beach, Denmark          A shack on Yorke Peninsula >> 78
Back to 101 Unforgettable Coastal Experiences
AUTHOR
Editor
COMMENTS
LOCATION
View on map
Fraser Island, QLD

Driving Fraser Island's 75 miles of beach is No. 9 on Australian Traveller's list of 100 Things To Do In Australia Before You Die.
THE DETAILS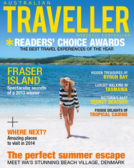 BUY THE ISSUE
This article appeared in Issue 54 of Australian Traveller.
The December 2013/January 2014: The Readers' Choice Awards Issue 2013 Readers' Choice Awards winners announced: Australia's 20 best destinations and experiences
Travel trends and amazing places to visit in 2014 

Hidden treasures of Byron Bay 

Luxury walking in Tasmania 

A bonus magazine 101 Unforgettable Coastal Experiences
Plus
an exclusive chance to win a trip for two, including return helicopter flights from Sydney, to luxury boutique hotel Bells at Killcare - valued at $5000
Reviewed
'Murrameroo' glamping in Bawley Point NSW, Palmer Coolum Resort in Coolum QLD, Foragers Field Kitchen in Pemperton WA
Special guest
Q&A with chef Neil Perry
BUY THIS ISSUE