Home
>
Gold Coast
> 100 Things To Do Before You Die #044 Walk Through The Treetops In Lamington National Park
100 Things To Do Before You Die #044 Walk Through The Treetops In Lamington National Park
March 28, 2011
 Where is it? McPherson Range, 110km south of Brisbane.
Be eye to eye with the birds in Lamington National Park, as you walk 15m above ground on a series of suspension bridges through the forest canopy at  O'Reilly's Tree Top Walk. The 180m-long walk takes you past ferns and enormous strangler figs, with Mount Tamborine as a backdrop.
AUTHOR
COMMENTS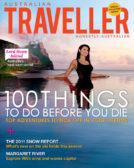 BUY THE ISSUE
This article appeared in Issue 38 of Australian Traveller.
100 Things To Do In Australia Before You Die
Margaret River - Out and About
The 2011 Snow Report
Clarion Hotel Adelaide Review
Wildflower Walks In The Adelaide Hills
Short Break - Port Douglas

BUY THIS ISSUE