The Pole House Holiday Home
September 9, 2009
An icon of the Great Ocean Road, the Poll House is one of Australian Traveller Magazine's 100 Great Australian Holiday Homes.
Almost as famous as the Great Ocean Road itself, the precarious and fabulous Pole House has grown to become a Victorian landmark in its own right – and a pretty inspirational one at that. When the Ash Wednesday bushfires brought the region to its knees in 1983, the Pole House was virtually all that remained untouched, and for years afterwards it bore the blackened evidence of ferocious flames licking the entire length of its 40m pedestal. It was a close call, but today the lofty Frank Dixon-designed 1970s love den (with carpeted walls!) regularly services honeymooners and holidaymakers from around the world. Some argue that it has the best views in the region – but that can't be true, since it's the only spot from which you can't see this splendid structure. So if you do get the chance to walk out across its 23m walkway bridge for a stay, unless you're afraid of heights and a little bit of swaying in the wind, we suggest you jump at it.
Details // Banool Rd, Fairhaven, Vic. From $355 per night. www.aireysinletrealestate.com.au, (03) 5220 0200.
AUTHOR
COMMENTS
LE TOP 5 DES PLUS BELLES MAISONS DU VICTORIALE BLOG OFFICIEL DE TOURISM VICTORIA – AUSTRALIE
[…] à 40 mètres au-dessus de la plage de Fairhaven, The Pole House est surement la maison la plus emblématique d'Australie. L'architecte et ingénieur […]
KELLIE BLAIR
I was quite disappointed in a couple things
1 for a newly renovated property the lack an exhaust canopy in the kitchen meant you couldn't cook anything without setting off the smoke alarm, so the main siding glass door needed to be left open for cross ventilation.
2 lack of simple cooking facilities like a 2 burner electric cooktop, instead there was thus plug in the wall induction cokktop with no instructions & so hard to use. The burner was burning the middle of the fry pans, we couldn't even enjoy a cooked breakfast without a burnt flavor.
3. We were supplied one towel each, half size of a normal bath towel & very thin.
These things sort of ruined the experience a bit would hate to stay long than 2 days.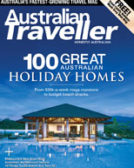 BUY THE ISSUE
This article appeared in Issue 29 of Australian Traveller.
Issue 29 - October/November 2009 Edition, 100 Great Australian Holiday Homes + Melbourne's New Dope Wars + Australia's Architectural Havens + 10 Things To Do Before You Turn 10.
BUY THIS ISSUE
MORE FROM GREAT OCEAN ROAD