Home
>
Hobart
> 100 Things To Do Before You Die #090 Be At The Finish Line Of The Sydney Harbour Yacht Race
100 Things To Do Before You Die #090 Be At The Finish Line Of The Sydney Harbour Yacht Race
March 28, 2011
Where is it? Constitution Dock, Hobart
So you missed the beginning of the Sydney to Hobart Yacht race because you were at the Boxing Day Test Match? It's okay; as long as you catch the end of this incredible endurance race. Hearing progress reports on the news and tracking the race online creates such a sense of anticipation. Get to the finish line before the yachts do and wait eagerly among the crowd to see which exhausted team makes its way up the Derwent River to the finish line first.
AUTHOR
COMMENTS
LOCATION
View on map
Constitution Dock, Hobart, TAS
Downing an oyuster at Constitution Dock Hobart is No. 94 on Australian Traveller's list of 100 Things To Do In Australia Before You Die
THE DETAILS
Where // Constitution Dock, TAS, Australia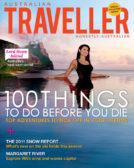 BUY THE ISSUE
This article appeared in Issue 38 of Australian Traveller.
100 Things To Do In Australia Before You Die
Margaret River - Out and About
The 2011 Snow Report
Clarion Hotel Adelaide Review
Wildflower Walks In The Adelaide Hills
Short Break - Port Douglas

BUY THIS ISSUE