Gulargambone: the middle of nowhere
August 24, 2012
 Zoe Naylor makes an unexpected discovery in outback NSW…  Here's a question: where can you go for an impromptu road trip out of Sydney, that you've probably never heard of and can accomplish in a weekend?
Welcome to Gulargambone! Located just 576 kilometres from Sydney (or 75 minutes north of Dubbo), this quaint country town is situated on the banks of the Castlereagh River, in Coonamble Shire. Gulargambone was first inhabited by the Indigenous Weilwan people and is an Aboriginal word meaning plenty galah birds. Since the advent of European settlement in the 1800s, their way of life has sadly all but vanished, with Gulargambone becoming home to grazier settlers who gazetted it as a new village in 1883.
My partner and I have become more and more interested in exploring little-known regional parts of Australia over the years, and the idea of this spur-of-the-moment little trip had us renting a four-wheel drive (for extra driving comfort) making a beeline up of Bells Line of Road to get us out of Sydney. Having spent several years travelling along this road while at university in Bathurst, it felt like a familiar homecoming as we pulled into the many local orchards to buy snacks for the journey. There really is nothing better than a ripe, juicy peach plucked fresh from the tree!
As we passed through the thriving town of Mudgee, the iPod was getting a great workout while our puppy slept soundly in the back. We felt ourselves start to breathe more deeply as we hit the open roads.
In the current economic climate it was reassuring to see regional Australia alive and kicking and we felt excited by the new terrain we were about to traverse. By the time we reached the outskirts of Dubbo, however, our buoyant mood dramatically changed. The life force behind previous towns suddenly vanished and suburbs began to look more like ghostly playgrounds than places people would choose to live. Vital infrastructure appeared to have collapsed and I would argue that greedy corporations had fled in search of greater
profit margins. Perhaps that is why we hadn't heard of Gulargambone, we thought.
I felt quite saddened by this region's state of affairs. But when we finally arrived at our destination thankfully our spirits lifted almost instantaneously. A barrage of cheery signs greets you as you enter Gulargambone, proudly boasting the town's many achievements. Lovely manicured lawns line the streets and several impressive corrugated iron Gular artworks make their presence felt. It is no wonder that Gulargambone was crowned the New South Wales Tidy Towns State Winner in 2005.
Upon arriving at the local pub, though, I was soon told that this was not always the case. Back in 2000 facing a similar imminent death to its neighbouring counterparts, the locals decided they were not going down without a fight. They bandied together and embarked
on a string of community based initiatives  to keep the town alive. They opened the first community owned post office in Australia, set up a new multi-purpose health service, built a community garden and then opened an award winning cafe and gallery, Cafe 2828.
Members of Gularbambone now run most of the town. Cafe 2828, for example, is set up on a rotating roster and the home-cooked food served there is worthy of its own cookbook. The date scones fresh from the oven are arguably the best I've ever tasted and ever since I was lucky enough to be given the recipe, I seem to be baking them for breakfast, lunch and dinner!
We chose to stay in the heart of town at the Barking Owl. Originally built in 1927 it served as the local bank. Recently, new owners Kerry and Jim Thompson have turned it into a wonderful B&B. And at just $120 per night, this luxury accommodation option could rival that found in any major town.
My next choice for accommodation would've been the local caravan park run by Pam and Graham Carroll, who very kindly offered to house our puppy, Charlie for the night. The Gulargambone Caravan Park is pet friendly and having a guided tour of this place is like discovering a rare Australian gem. Whether you choose to stay here or not, you must swing by and have a look. And make sure you buy a bottle of Graham's homemade Gular Piss – it's legendary in these parts and not a bad drop!
One of the weekend's other highlights was dinner at the local pub, the Gulargambone Hotel, run by Pete and Gina Gilmore (who come complete with their four children in tow). Whether Pete's pouring you a cold schooner from the tap or running out back to make sure your sirloin is cooked to perfection, the warmth that emanates from this pub is one the things that will be sure to keep the business thriving. Pete has even hand-built a pizza oven in the courtyard!
The passion and spirit of Gulargambone's people is indeed infectious. The unofficial Mayor, Col Ryan is a true blue Aussie legend and we'd like to thank him for kindly introducing us to the many unforgettable faces.
At the end of the weekend, we could actually see ourselves settling down in a little town like this; filled with that true sense of community spirit. Somehow I just didn't feel that loneliness was commonplace in this town, everyone had a real sense of belonging to something special.
If you'd like to plan a longer trip to the area, the Warrumbungle Mountains National Park is only 65 kilometres away and apparently has a great National Parks and Wildlife Service Centre, Spring Observatory and plenty of camping, bird watching and bushwalking. Or, you could continue your drive all the way to Lightening Ridge – 230 kilometres away.
As a voice for tourism, I'd love to try to put some of our regional communities on the map as viable destinations. I can't wait to jump back on my Ducati, or hop in the car to discover what the next little unknown Aussie town has to offer. Hopefully, you'll feel inspired to do the same.
The Details

How to get there
Located in NSW's Central West Plains, Gulargambone is over a 500km drive north-west from Sydney. But if you're pressed for time, Regional Express regularly flies to Dubbo (taking 70 minutes from Sydney), situated about 115km south of the township. rex.com.au
Where to stay
Barking Owl B&B: 35 Bourbah St, Gulargambone. Contact Kerry and Jim Thompson on 02 6825 1944 or barkingowel.gular@westnet.com.au
Gulargambone Caravan Park:17 Skuthorpe La, Gulargambone. Contact Pam and Graham Carroll on 02 6825 1666.
More info
Gulargambone Visitor Information Centre is situated inside the 2828 Cafe, at 28 Bourbah St. Otherwise call the staff on 02 6825 1828 or visit coonambleshire.nsw.gov.au
AUTHOR
COMMENTS
WAYNE BILLS
Visited once in late 80's..stayed at the pub..my dad worked at the timber mill as Orderman..Mayford Bills..married my mother from Gilgandra..aunty had a little house just west of the town..remember picking mushrooms in early morning..wonder how many Smiths, Bills, Whites r still there..great place & would love to visit again
KATHRYN
Well, well, I am so glad someone else shares my opinion of beautiful Gulargambone. In the mid 1980's, I used to take my (then) young children and stay at Blamford Downs (the G'Day Holiday Farm) every year (for three years). My (now) adult children still reminisce and talk about it today! First of all, the wonderful experiences we shared on that farm getting on the back of motorbikes to help muster the sheep, bottle feeding potty lambs, the fabulous BBQ's we shared with the extremely hospitable and friendly owners, Ken and Anne Graham, on the banks of the Castlereagh River (that ran through the property) and so many other memorable activities. The highlight was when we leased an old caravan (back in those days) that had a water connection attached to a tap. To my horror (and my children's unbridled amusement), the tap just happened to be located inside the fence of a paddock that housed a very bad tempered young bull! Of course, my children used to fall about laughing as I nearly impaled myself (on a number of occasions) on that fence avoiding the up-close-and-personal attentions of that territorial bull. One of the reasons we loved staying at Gulargambone was its close proximity to the amazingly beautiful and remote Warrumbungle NP which is full of kangaroos, wallabies and wonderful picnic spots. Also, Gulargambone is a day's trip away from the iconic and incredibly interesting LIGHTNING RIDGE which, by the way, gets my vote as one of the best towns in Australia to visit – it has more eccentrics in this little town than you can poke a stick at! En route to Lightning Ridge, we also made a 90 km detour to another fantastic little town called "COME-BY-CHANCE". We specifically drove there because my elder son was collecting those travel spoons. Imagine our delight after bouncing along on a dirt road for 90 kms to find a little isolated shop near the famous race track. When I asked the proprietor if she had any collector spoons, she climbed a ladder, reached to the back of the top shelf and located a very old (and dusty) box containing a collector spoon that looked like it had been there since the late 19th century! My son was ecstatic. Yep, Gulargambone holds some great memories for us.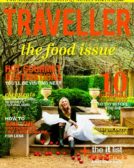 BUY THE ISSUE
This article appeared in Issue 46 of Australian Traveller.
The AUG/SEP The Food Edition
* 10 Regional Restaurants To Try Before You Die
* Cheap Eats - The insiders guide to Sydney's cultural gems.
* How to sail the whitsundays like a millionaire for less.
* Melbournes best new eats
* Beatiful Berry. Sydney's secret weekend escape.
* Hot Gormet Destinations You'll Be Visiting Next
Plus
Phillip Island, Esperance, Gulargambone
Reviewed
The Burbury, The Denman, The Agrarian Kitchen, Speed Grazing, The Mill on Morrison
BUY THIS ISSUE