Hop aboard the Coffin Bay Explorer
March 9, 2010
Experience No.047 in Australian Traveller's 100 Greatest Australian Gourmet Experiences
Coffin Bay oysters are the Faberge eggs of molluscs. No finer example of a plump, juicy, Pacific bivalve exists anywhere else on the planet. From their protected bay on the west coast of SA's Eyre Peninsula, they are sought in every decent restaurant across the land and command much higher prices than their inferior competitors.
"Everything at Coffin Bay is pristine and excellent. The passionate producers deliver an exquisite product." – Alla Wolf-Tasker
To slide a top-grade Coffin Bay oyster into your mouth is oral ecstasy and, once had, never forgotten. As Maggie Beer says, "An oyster will never taste like this again." For some, no greater gourmet joy exists. And if you love the bivalves, the Coffin Bay Explorer Seafood and Wildlife Experience is a trip to heaven on earth.
While the dolphins provide a great distraction, the sea lions an interesting diversion, the real reason to take in this pristine and amazing coastline is the oysters. Lifting them gently from their beds in the bay then shucking them onboard to be consumed along with your BYO drinks is . . . well. It's quite something.
Where: On The Esplanade, 35mins northwest of Port Lincoln, SA. 0428 880 621, www.coffinbayexplorer.com
Did you know: The majority of spats (oyster larvae) that make the Coffin Bay oysters are from hatcheries in Tasmania.
AUTHOR
COMMENTS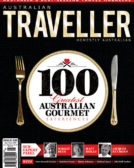 BUY THE ISSUE
This article appeared in Issue 32 of Australian Traveller.
Issue 32 - April/May 2010 Edition: The 100 Greatest Australian Gourmet Experiences, with guest Judging Panellists Maggie Beer, Matt Moran, Jacques Reymond, Peter Russell-Clarke, Alla Wolf-Tasker, Michael Ryan, Simon Johnson and Matthew Evans.
BUY THIS ISSUE