The Daily Wonder
November 22, 2006
A Felix Hug image portfolio on Australian Characters.
Felix Hug captures a distinctive side of this country by finding a particular joy in the small things. A face, a car, a dog on a veranda . . . everywhere he focuses his gaze says something unmistakable about Australia.
A couple of years ago, right on the heels of shooting a book in a monastery in Burma, Felix Hug returned to Australia and snapped by chance a bizarre scene of Cambodian Buddhist monks on the steps of Sydney's most famous building. Talk about dislocation. It took more than few moments for Hug to remember exactly where he was. And, as the young, accomplished Swiss-born photographer says, "The Opera House is a place for meditation anyhow." It's that sense of the unusual, of a different way of looking at things, that has inspired Hug every day of his working and travelling life.
"For me, travelling and my travel photography is about the wonder of the daily wonder," says Felix. "I try to look at the small sensations and ask people: 'When did you last look at your surroundings as though it were your last day?'
Felix also makes it his purpose to inspire others to look for that different image, that interesting composition. In his mind, anyone can be shooter capable of more than just holiday snaps. "I try to make people move away from the 'picture' spots by telling them, 'Sure, it's beautiful over there where ten thousand other people have taken a photo . . . but why not try to find your own angle? If you just want the picture spots, why not stay at home and buy a book?'
"I love to influence the traveller to open their eyes again to the beauty of travelling. It should inspire us to realise that the things we ought to find are closer than we think. It's just a matter of looking hard enough."
For more information on Felix and his impressive body of work, check out www.hfphotography.net
AUTHOR
COMMENTS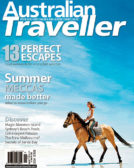 BUY THE ISSUE
This article appeared in Issue 12 of Australian Traveller.
13 Perfect Summer Weekends, What's new in holiday Meccas. Moreton Island, Jervis Bay, Coastal and Harbour Baths Review - Palazzo Versace
BUY THIS ISSUE