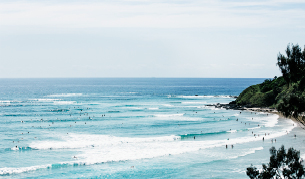 #1: Coastal haunt – Byron Bay, New South Wales This famous east coast town has long been adored for its incredible beaches and epic surf breaks, but this is no ordinary seaside holiday. With an eclectic culture unlike any other, Byron Bay is the destination where alternative new agers merge with the uber-stylish, and bronzed backpackers mingle with local hipsters. And while we will always love the iconic lighthouse walk, pandanus palm-lined Wategos and epic surf breaks at The Pass and Tallows, it's all the happenings in town that excite us. With a recent surge in cool new places to try, our Byron Bay insider, Lara Picone, shares her top five new places to check out.
Barrio Located at Habitat, a live/work/play development in Byron's industrial estate, is this casual but sophisticated Argentinian-inspired eatery with a vibrant, hearty menu.
The solar train The old defunct railway has been given life with this solar-powered train (the world's first!) that leaves town and heads to North Beach Station near Elements resort and Barrio.
The Bower This daggy motel has had a cool makeover that is New York-meets-Byron Bay. The property also features a beautifully restored 100-year-old cottage.
The Byron Bay General Store The historic store (built 1947) has been converted into a cool cafe, the new hipster hang-out where you receive a 10 per cent discount if you ride your bike in.
Duk Run by the people behind 100 Mile Table, this chic Asian eatery is a welcome addition, with excellent food and mood.
Read More
Collapse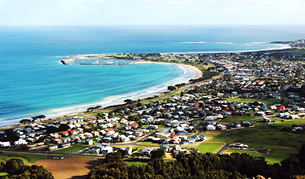 #2: Coastal haunt – Apollo Bay, Victoria Apollo Bay is a kaleidoscope of beauty, located at the foothills of the Otways, on the Great Ocean Road, where rolling green hills and long stretches of beach can be viewed in one frame. It's a haven for surfers, divers, swimmers and local seal colonies alike; it's the start of the spectacular Great Ocean Walk; and an easy drive to Great Otway National Park, an oasis of rainforests, waterfalls, and lush gullies. Indeed, in our humble opinion, this little beauty is worthy of more than a pit stop on that famous road trip.
Read More
Collapse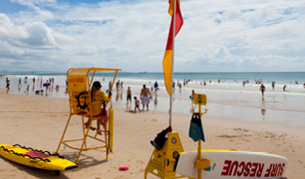 #3: Coastal haunt – Mooloolaba, Queensland While Marcoola has you covered for the quintessential family holiday on Queensland's Sunshine Coast, Mooloolaba is the place for those who like their seaside sojourn with a little glitter on the side. Its esplanade lined with stylish alfresco restaurants and designer boutiques is the perfect complement to the ocean, which sits just a stone's throw away. Our Sunshine Coast expert Celeste Mitchell shares her perfect day in Mooloolaba. Start your day right with truffle scrambled eggs and a golden latte at CK Coffee Bar, then take a stroll along the esplanade stopping to browse the chic stores including Number Nineteen and Ark & Arrow. Hire a retro cruise from the Hire Hut and cycle along the coast from The Spit to Alexandra Headland. Return to The Spit to buy fresh prawns straight from the trawlers at Mooloolaba Fish Markets; eat them upstairs on the deck with a beer and views over the marina. Spend the afternoon lazing on Mooloolaba Beach, then pop into Pier 33 for a cocktail as the sun goes down and finish the day with dinner at Spice Bar for mouth-watering Asian food.
Read More
Collapse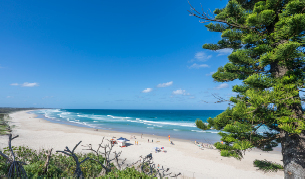 #4: Coastal haunt – Cabarita Beach, New South Wales The Tweed Coast has always been a favourite for holidaymakers in the know, but in 2015 it became a truly coveted destination when Halcyon House opened at Cabarita Beach. This luxury boutique stay gave new life to the run-down 1960s Hideaway motel, with a complete makeover: breathtaking interiors by Anna Spiro (pictured), a fabulous on-site restaurant Paper Daisy, a light and breezy day spa, old-fashioned service that saw visitors flocking here from across the country. But those who knew Cabarita before the Halcyon, in the halcyon days, know that it's always been a little pocket of paradise, bordered by a nature reserve, lake and sugar-white beaches. And it's just a bonus that there's now a pretty place to lay your head at night.
Read More
Collapse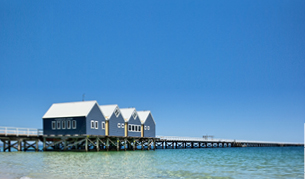 #5: Coastal haunt – Bussleton, Western Australia Busselton is more than the gateway to the Margaret River region and its famous 1.8-kilometre-long jetty – which, should be noted, has an excellent underwater observatory accessed by a mini train. Not only is this city blessed with a beautiful waterfront; calm, white-sand beaches; superb whale watching; and a lively foreshore with beachside cycle paths (you can ride all the way to Dunsborough), it's also a buzzing cultural hub with a great food and wine scene. Some stand-outs include the Artgeo Cultural Complex, a museum and gallery based in the 19th-century courthouse; the 1936-built Fire Station which is now a small bar with organic and natural wines and beers from local producers; and The Shed (Thursday to Sunday), fresh food markets where you'll find local cheesemongers, fruit and vegie growers, artisan bakers and the like, as well as a host of food trucks as part of 'Eat Street'. Busselton also has a bursting calendar of events, which has earned it the title of 'Events Capital of WA'. Here, some happenings to keep an eye on. 1–4 June: Jazz by the Bay: A diverse line-up of localand international jazz artists play in a variety of venues around the region. 22–26 August: CinefestOZ Film Festival: Film screenings and immersive experiences such as red carpet premieres, short film sets,  and 'in conversation' lunches at local wineries and breweries. January 2019: Festival of Busselton: A festival of all things fun for all the family: an outdoor cinema, sandcastle competition, log chopping, a pet parade and more. 9–10 February 2019: Busselton Jetty Swim: Two days of entertainment including free concerts, fun runs and food stalls culminate in the main event: a 3.6-kilometre swim around the jetty. 23 February – 3 March 2019: Busselton Fringe Festival: This vibrant nine-day event includes a host of talented artists and performers taking to stages across the city. Comedy, cabaret, burlesque, film and family shows are among the many acts.
Read More
Collapse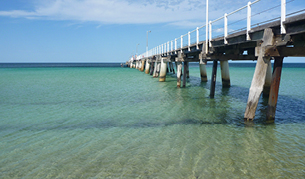 #6: Coastal haunt – Tumby Bay, South Australia A landscape of seemingly endless white sand (10 kilometres, in fact) with cerulean water, a pine-tree-lined foreshore, and a backdrop of rolling farmland with wildflowers in the spring… we feel relaxed already. Tumby Bay is a renowned fishing destination with endless options to throw in a line at the jetty, on a charter, at the beach, on the rocks, or the nearby Sir Joseph Banks Group of Islands. But if you're not an angler at heart, there's plenty more in this peaceful little nook to keep you happy with great diving, bushwalking trails and bird-watching.
Read More
Collapse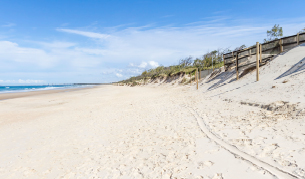 #7: Coastal haunt – Marcoola, Queensland Marcool-huh? We're not surprised if you have never heard of this little Sunshine Coast town located just 10 minutes from Sunshine Coast airport. It has flown under the radar, allowing Noosa and Maroochydore to steal the limelight, and that's why we love it. Uncrowded beaches, grassy parklands perfect for family barbecues, the Maroochy River at its back door, this little gem is the classic coastal escape where doing very little is the delightful thing to do. There's a lovely beachside walk that leads to Maroochydore and Mt Coolum National Park is less than 10 minutes' drive north; walk to its summit for a panoramic view of the coast. When it comes to food, glorious food, we rate Little Boat Espresso for an inventive brunch menu, Marcoola Market (every Friday 4-8pm) where there's food trucks and relaxing tunes with a great family vibe, and Bulli, a local's favourite for good pizza.
Read More
Collapse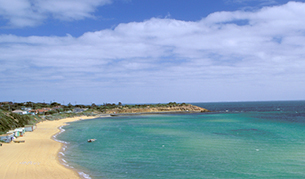 #8: Coastal haunt – Mount Martha, Victoria Tucked away on Victoria's Mornington Peninsula, the small village of Mount Martha is a pretty seaside enclave with a rocky headland, just a stone's throw from wineries and the Peninsula Hot Springs. The town boasts scenic walking tracks, including a clifftop walk that leads to the town of Mornington, and a boardwalk in The Briars, a rural property with a historic homestead, wetlands and woodlands, while its quiet beaches are lined with the iconic candy-coloured bathing boxes found along this strip of coast. Coffee snob? You're in luck – Mount Martha has a bunch of really cool cafes in town that take their roasts as seriously as those in coffee-obsessed Melbourne. Get your fix at Higher Ground, Mr Curtis, South Beach Project and Milkbar & Co.
Read More
Collapse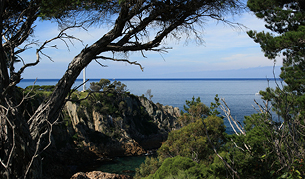 #9: Coastal haunt – Eden, New South Wales The history of this small town on the far south coast of New South Wales warrants a visit alone. In the 19th century, Eden was a thriving whaling town, though its success was not owed to the skills of the whalers alone. Legend has it that killer whales would knowingly assist in the hunt by coaxing passing humpbacks into Twofold Bay and into the path of local whalers, who would harvest them for oil and bone. Take a self-guided tour of the Killer Whale Trail to learn the story of the town's whaling stations and Old Tom, a legendary killer whale. Thankfully this waterway, known as 'Humpback Highway', is safe from whalers these days, and between September and November these creatures can be spotted as thousands of them pass by on their way to Antarctica.
Read More
Collapse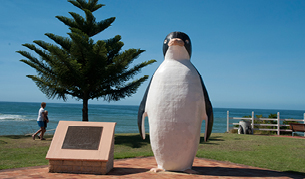 #10: Coastal haunt – Penguin, Tasmania What's in a name? Well, a lot for this small Tasmanian town. Sitting on the shores of Bass Strait on the state's north-west coast, Penguin is a quaint seaside town with scenic walking trails, Tasmania's largest undercover markets (held every Sunday), and their very own 'Big Thing' – a three-metre-tall penguin. But it's the real thing that makes this town so special; every year from September to March fairy penguins come ashore to breed at a number of rookeries located along the coast, and they can be spotted each night at nearby viewing platforms easily accessed from Penguin, including Lillico and Burnie.
Read More
Collapse