Where is it? Australia's closest Antarctic station, Casey, is 3440km from Hobart, but the subantarctic Macquarie Island is a mere 1500km south-east of Tasmania. 
It seems the question of where to go on your holidays is becoming more of a conundrum than ever. Travellers are increasingly attracted to not only the road, but the location less travelled. The more remote, the more elite the tour group, the more extreme the environment, the better. Blame expedition cruising, and the more active and agile among the retired leisure class.
Antarctica is an increasingly covetable destination, and the Australian Subantarctic Region, until recently little known, is now on the tourism radar too. So you'll be glad to know you can still be an Australian traveller while you're in Antarctica.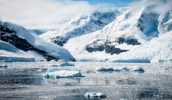 "While you are here, make sure you visit Mawson's Hut at Cape Denison. It's untouched and completely frozen in time 100 years on." Lisa Wilkinson
Macquarie Island, for example, which is halfway between Australia and Antarctica in the Southern Ocean, is in fact considered part of Tasmania. It's even looked after by the Tasmanian Parks and Wildlife Service. But it's also on the World Heritage List for being the only place on earth where rocks from the earth's mantle, 6km below the ocean floor, are exposed above sea level. It's a breeding ground for fur seals, elephant seals and many Southern Ocean birds, such as albatrosses, and is home to royal and rockhopper penguins.
Then there's Mawson's Hut at Cape Denison, a time capsule preserved in ice of Sir Douglas Mawson's explorer's hut/scientific base. And Commonwealth Bay, the windiest place on the planet, where you can see king penguins at play.
The only way to get to these places is by ship, of course, and preferably a big, ice-breaking one.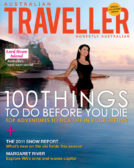 Enjoy this article?
You can find it in Issue 38 along with
loads of other great stories and tips.