Historic remnants of explorer Douglas Mawson's mono plane have been uncovered in Antarctica. 
In a recent expedition to Antarctica onboard the boutique cruise ship Orion, expedition member Mark Farrell uncovered segments of metal piping from explorer Douglas Mawson's single-prop mono plane from his expedition to the icy continent more than 100 years ago.
The plane itself was built less than a decade after the craft used for the Wright brothers' first flight, and was taken to Antarctica for use in Mawson's expedition, where it was employed mostly as a kind of motorised sledge.
Frank Hurley, who famously captured photographs of the expedition, took several images of the craft – one of which is seen here, and was used to identify the remains found by Mark Farrell. The fragments have been sitting soaking in seawater for around 30 years, but are still visible and clearly identifiable from archival photos as part of the aircraft.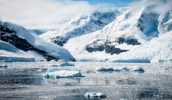 The fragments have now been taken to the Conservation Laboratory at Cape Denison, and the Australian Antarctic Division will decide whether to leave them there or return them to Australia for specialist treatment.
Check out www.orionexpeditions.com for more info.