Snorkelling and Antarctica are two words you'll rarely hear in the same sentence.
Travel company Aurora Expeditions, however, are seeking to change that, offering its passengers the chance to get out amongst the penguins, seals and whales, starting in 2014.
The big question: How do you not freeze to death?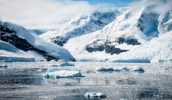 The activity will be run by polar diving experts and snorkellers are equipped with waterproof 'Snorkel-Drysuits', gloves, hood, and all the usual accessories. On the spot training will also be provided before you head off to explore the icebergs.
The water temperature is generally around -1 to -2 degrees Celsius (the freezing point of water is lower (than zero) due to its high salinity).
Snorkelling will be offered on a range of the company's expeditions, such as Across the Antarctic Circle and Weddell Sea & Antarctic Peninsula.
For more information auroraexpeditions.com.au