Gnomesville, the City of Gnomes
From humble and mysterious beginnings more than a decade ago (no-one knows for sure who started it), what was once a couple of meek lawn ornaments plonked onto a roundabout near Dardanup in southwest WA has grown into a sprawling citadel, a virtual world of more than 1000 roadside gnomes.
Garden variety gnomes, sports-playing gnomes, fishing gnomes, partying gnomes from all corners of the globe – they're all left here with accompanying names and messages, usually richly pun-related. (Like Greg Gnoman, The Rolling Gnomes, the Gnoman Empire, even Assgnoma Bin Larden in a tiny gnome cave.)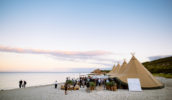 The still-growing gnome community in tiny Ferguson Valley is self-protected by the rumour that incredible bad luck will befall anyone foolish enough to steal from or damage Gnomesville, and in fact wishes are granted to those who add to the collection when they visit.
The trick, when dropping off a portly statuette of your own, is coming up with a gnome-related pun that hasn't already been taken (a lot harder than you think).
Quite aside from the sheer whimsy involved in visiting Gnomesville, there are several other sites worth checking out, including nearby Wellington National Park, home to the 36m tall King Jarrah Tree, one of the oldest jarrahs in the world at 500 years.
"LOADS OF FUN. WHY NOT, I SAY!" – Sandra Sully  
WHERE // Southwest WA, about a 15min drive from Bunbury, near Dardanup, surrounding the roundabout joining Ferguson Rd and Wellington Mill Rd in Ferguson Valley.
DID YOU KNOW? // Vandals (whom AT are officially putting a curse on) tore a path of destruction through Gnomesville in January 2007, smashing and decapitating several dozen gnomes. Locals were outraged, Bunbury police are baffled and a reward has been offered by the State Emergency Services Volunteer Assoc for their capture.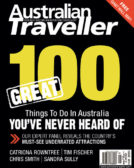 Enjoy this article?
You can find it in Issue 14 along with
loads of other great stories and tips.