Meet the Panelist from the 100 Best Views in Australia 
Earlier this year we asked the Australian Traveller community to vote for their all-time favourite views in Australia. Just under 1000 entries were sent in by readers, tourism operators, and local and international travellers. The nominations were all eye-wateringly beautiful, so we knew it would be a hard task to pick the top 100. That's why we decided to go to the people whose job is to travel the country looking for jaw-dropping views: professional Australian photographers. We got together a panel of the country's best clickers (and our editor) to judge a selection of the sights. You'll discover just how diverse Australian landscapes can be – and just how glorious.
To Visit The 100 Best Views Index Click Here!
KEN DUNCAN




Iconic Aussie image maker and multi-awardwinning artist, Ken is a gifted and prolific landscape photographer. Ken's skill with a camera is not limited to nature scenes – he has worked on international projects including photography for rock band Midnight Oil and commissions for National Geographic, World Vision and other international agencies.
Find out more about Ken at kenduncan.com.au

PETER LIK




A fine art photographer, Peter was born in Melbourne but is now based in Las Vegas. He's a self-taught "big" landscape photographer, and an award-winning Master Photographer who recently sold one of his art prints for one million dollars!
Find out more about Peter at lik.com

GRENVILLE TURNER




Grenville feels at home whether he is in the Strezlecki, Simpson or Gibson Deserts, on the shores of Lake Eyre or atop Cradle Mountain, in the Kimberley, on a cattle station or in the rainforest… and he has captured them all. With more than 40 years behind the camera, Grenville is a master photographer, teacher and mentor – a photographer who loves to share his craft.
Find out more about Grenville at grenvilleturner.com

NICHOLAS WATT




Nicholas is a professional photographer based in Sydney. He specialises in travel, interiors and portraiture, working both in Australia and abroad. He has a magazine and design agency client base including interiors, landscape architecture, science, food, fashion and the arts. He often shoots Australian Traveller's cover stories.
Find out more about Nick at nicholaswatt.com

NICK RAINS




Nick has been a professional photographer for 28 years and has photographed genres such as sport, nature, landscape, industry, fashion, celebrity and advertising. His work has been published all over the world in magazines, books and calendars, and his limited-edition prints hang on the walls of houses in over 27 countries. Nick is an AIPP Master of Photography and national judge. He is also the editor of BetterDigital Camera magazine in Australia, conducts seminars and workshops around the  ountry, and is a Leica Ambassador.
Find out more about Nick at nickrains.com




CHRIS BRAY




Chris is an award-winning Australian Geographic photographer, photography teacher and photo judge. He's Canon's EOS ambassador and Lowepro's Aussie ambassador, and runs one-day photography courses all around Australia and safaris to Kenya and more. An adventurer at heart, he's lead world-first expeditions to the Arctic.
Find out more about Chris at chrisbray.net

MARK GRAY


Mark is one of Australia's leading landscape photographers and has a growing list of more than 20 awards. Mark's photographs can be purchased as collectable limited edition prints, wall posters and other products online and through his retail gallery in Merimbula, New South Wales.
Find out more about Mark at markgray.com.au



GORDON UNDY




Gordon has practised photography since the age of ten. He graduated in Arts from the University of Queensland. For the past 15 years he has taught traditional film photography in silver gelatin and platinum/palladium at Point Light Gallery and School of Photography, which he and his wife Lyndell established in 1996 in Sydney. For the last four years Gordon has been a regular juror for Photo Lucida.
Find out more about Gordon at pointlight.com.au



ELISABETH KNOWLES

 

Elisabeth is the editor of Australian Traveller, so it's no surprise she's spent most of her adult life finding excuses to take off to places she's never been. But it's the places she has visited a lot that mean the most to her.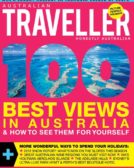 Enjoy this article?
You can find it in Issue 44 along with
loads of other great stories and tips.