Score: 8.22
Defining a 'best' place to see our indigenous rock art? Impossible.For starters, art is incredibly subjective, but more to the point, seeing our rock art isn't about pretty pictures; it's about respect and understanding. To confront such palpable evidence of the many cultures who lived here before us is a powerful, humbling experience. But it's also an incredibly rewarding one.
The best of the best
• "The rock art at Laura in Cape York is extraordinary, and not at all touristy." – Lee Atkinson
• "You'll find awesome art off-the-beaten track in the outskirts of Canberra, at Namadgi National Park." – Jen Pinkerton
• "With World Heritage status and paintings up to 20,000 years old, it has to be Kakadu."– Kerry Heaney
• "Injalak Hill, at Arnhem Land's Oenpelli, offers the best ratio of accessibility-to-experience." – Georgia Rickard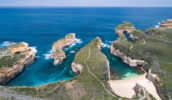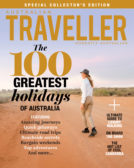 Enjoy this article?
You can find it in Issue 56 along with
loads of other great stories and tips.