The Ultimate Guide to travelling in Australia — the 100 Things You Can ONLY Do In Australia.
In this, the third instalment of our "100 Things" series, we set ourselves the greatest challenge yet. A double challenge, really. First, we set out to present for you 100 amazing things you can only do in Australia – be it marvelling at a geological oddity, interacting with a critically endangered species or any one of a number of one-of-a-kind experiences. That's not as easy as it sounds. But through the research process we found that Australia holds a remarkable number of world records for the biggest, widest, tallest, densest, fattest, shortest, fastest, slowest, most and rarest what-have-yous . . . gather all these together and you've got the beginnings of a truly valuable document designed to inspire people to see their own country and appreciate just how lucky we have it in Australia.
The second challenge was to ensure that this 100 could stand on its own two feet. Therefore, we were determined to exclude anything we'd covered in previous instalments – the 100 Things To Do in Australia Before You Die and the 100 Great Things To Do In Australia You've Never Heard Of – unless we could profile it with a genuinely new twist.
Yep, before we'd even started we'd declared 200 truly amazing and fantastic experiences to be off limits. The search for our new 100 had just become a lot harder. But we figured there was more value for readers this way. And now you can consider this issue – in conjunction with the two previous ones – as a comprehensive, three-tiered travel bible that may never be topped. At least, that is, until next year.
But one last thing before you write in to tell us all the things we overlooked this time around (which, by the way, we enthusiastically invite): remember – this list is in no particular order. We're not suggesting, for example, that No. 04 (catching a wave on the world's biggest surfboard) is better than No. 55 (witnessing the world's largest gathering of Utes). Each entry carries just as much weight as any other. And nowhere in the world but Australia can you see, do or treasure these 100 amazing things.
Hopefully that alone will be enough to make you want to start right away. So, as always . . . see you out there,
The Australian Traveller Team
THE 100!
Things you can only do in Australia 1-50

Things you can only do in Australia 51-100

001 Tallest ocean stack
002 40,000-yr-old health treatment
003 Oldest on root vines
004 Largest surfboard
005 Deadliest spider
006 Land Marlin from the rocks
007 Camp by a billabong
008 Largest driveable war memorial
009 Largest public VC collection
010 Longest straight stretch of rail
011 Endangered Corroboree Frog
012 Beaconsfield greatest escape
013 Surf a sacred wave
014 Our unique boab tree
015 Go to war with the toads
016 Most venomous snake
017 Highest steel arch bridge
018 World's first feature film
019 Most 'roos under one roof
020 Gliding Morning Glory
021 Sail the James Craig
022 Dive with Dwarf Minke whales
023 Largest salt lake
024 Stromatolites at Shark Bay
025 Where Skylab crash landed
026 Ancient Wollemi Pines
027 Bundy Rum Rebellion
028 Largest straw stalactite
029 Most wild camels
030 World's only blue-eyed koala
031 Unique heritage-listed honey
032 Rock'n'roll with a Northern Quoll
033 Keep pace with an emu
034 Play on the musical fence
035 Longest golf course
036 Largest barometer
037 Race world's heaviest roaches
038 Smallest cathedral
039 Biggest coffee machine
040 Surf Wave Rock
041 Australia's unique mimic
042 Coober Pedy spaceship
043 Worship gods of the beach
044 World's longest heatwave
045 Black opal fossils
046 World's biggest burrower
047 Highest residential view
048 World's biggest geoglyph
049 Stare at the biggest boobies
050 The Great Artesian Basin
051 World's longest stock route
052 Walk all over your leaders
053 Reef meets Rainforest
054 World's only numerical town
055 Biggest gathering of Utes
056 Our new national bird?
057 World's fastest boat
058 Largest piece of lime
059 Roam among the Big Things
060 Largest gum forest on the Murray
061 Unique whale museum
062 Royal Flying Doctor Service
063 Make a Mad Max pit stop
064 Largest wooden structure
065 Great Wall of Tasmania
066 Unique dinosaur stampede
067 Highest density of anemones
068 Oldest materials on Earth
069 Largest ever arts movement
070 Play possum with a Leadbeater
071 Biggest inner-city park
072 Crown the Jacaranda Queen
073 Tallest flowering plant
074 Search for the Mahogany Ship
075 Longest postal run
076 Sleep in a wartime bunker
077 Largest ever gold nugget
078 Unique Fraser Island
079 Flatback turtle birth
080 Jack and Jillaroo school
081 Fish where no-one has before
082 Southern meets Indian Ocean
083 Rare pink diamonds
084 World's largest reptile
085 Two in the air for ANZACS
086 Most stubby holders ever
087 Midwinter Dinner in Antarctica
088 Drive around an entire continent
089 Stay the night with a Woylie
090 Longest trekking route
091 World's largest classroom
092 Giant Gippsland Earthworms
093 Darling Harbour swing bridge
094 Sleep on the Great Barrier Reef
095 Peer into the past at Riversleigh
096 Most poisonous mammal
097 Our own blue-ringed octopus
098 Laugh along with kookaburras
099 Heart and soul of Aussie cricket
100 World's only white whale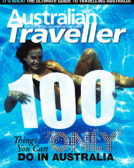 Enjoy this article?
You can find it in Issue 20 along with
loads of other great stories and tips.