AT's Aimee Chanthadavong has found a way to voyage through the Grand Canyon along the mighty Colorado River . . . without even having to leave her seat.
The best thing about watching a 3D film is that you can feel like you're becoming a part of the entire experience. You get to put on the funny looking 3D glasses and, when the movie starts, you can reach out to the screen and touch things that really aren't there.
It may sound silly – but it's okay because the rest of the cinema is doing the exact same thing.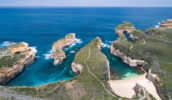 I was recently invited to Sydney's 3D IMAX Theatre in Darling Harbour for the launch of Grand Canyon Adventure: River at Risk, the latest film to be released at IMAX. Directed and produced by Greg MacGillivray, the man who made Everest – the most-popular IMAX film ever – has come up with yet another breathtaking film. It's a 45min adventure along one of America's major rivers, the Colorado, specifically set against the picturesque backdrop of Arizona's Grand Canyon.
It's a fun-filled experience, during which you'll join author and anthropologist Wade Davis and his daughter on tour as they battle and river-raft their way up the rampaging river – along with Australia's own Anthony Yap, freestyle and extreme kayaker. Environmental advocate Bobby Kennedy Jnr and his daughter also join them on this exhilarating ride. At times you'll feel like you're being sloshed about in a washing machine, but it's all part of the experience – and a real credit to its creators.
While you're sitting there, it'll also seem like you're taking part in the helicopter rides offered to tourists as an option to explore the Grand Canyon. You'll fly down low into the Canyon's mountainous gorges, where you'll see the rocky formations up close – so close you'll want to reach out and touch them.
The film aims to highlight and increase awareness for the need to conserve water, due to the rapidly progressing damage that's being done to the Colorado River because of global warming and the degradation of the area's biodiversity.
You'll also get a glimpse of Hoover Dam and Las Vegas as part of the film.
See? Who says you need to move from the comfort of your own country, let alone your own city, to be travelling to far-flung parts of the world?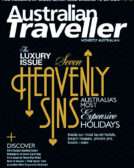 Enjoy this article?
You can find it in Issue 22 along with
loads of other great stories and tips.