Native Australian ingredients are finding their way into our everyday menus, but there is nothing everyday about these bush tucker experiences…
1. Kimberley crabbing Kooljaman style
More mangroves to mouth than paddock to plate, you can experience the full circle of indigenous food prep at wilderness camp Kooljaman (Cape Leveque), 200 kilometres north of Broome, on the tip of the sparkling Kimberley region.
Start by crafting your own spear under the tutelage of local Bardi man Brian Lee, and then spear some crustaceans, if that's your thing. Alternatively, wade elbow-deep into the aqua beauty of Hunter's Creek to collect crabs from their holes under the banks.
Brian shares his knowledge of bush fruit and unwinds local culture on this day tour, followed by the pièce de résistance: cooking your catch over a roaring fire. See Kooljaman Cape Leveque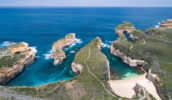 2. Fabulous feral food at the Prairie
The Prairie Hotel, on the outback side of the Flinders Ranges, 470 kilometre from Adelaide, is one of the best settings for a meal in Australia – the food also happens to be inventive, locally sourced and, well, delish.
The star seasonal fare at the Parachilna pub outpost is 'Flinders Feral Food'; fun fusions such as 'emu pate, kangaroo mettwurst and goats cheese with bush tomato chilli jam'.
It's not a meat-fest like at some outback pubs with genuine 'non-feral and non-carnivorous' (vegetarian and gluten-free) options balanced by the native sweets and sours, such as saltbush and muntries (bush apple). See: The Prairie Hotel
3. The raw bush hunt experience: Kakadu animal tracks
As hands on as bush tucker gathering gets, Animal Tracks tours take you into Kakadu's savannah and wetlands for bush hunting traditional-owner style.
Collect bush yams and come along as local wildlife (such as magpie geese and turtles, depending on season) is hunted and prepared in ancient ways. The bounty is then cooked in a ground oven, along with damper, as you sit on a paperbark mat.
This tour, which departs from Gagudju Lodge Cooinda, is for "open-minded people looking for a personalised and earthy experience" – ie you will see animals killed in front of you in the traditional way.
If you are okay with that, prepare for an eye-opening and rewarding experience. See: Animal Tracks Kakadu Tours
4. Licking the Flames of the Forest
Think candle sculptures, lights dangling from tree canopies, champagne upon arrival, followed by mod-Oz cuisine under a silk-lined marquee in a peaceful piece of rainforest (about 10 minutes from Port Douglas).
Two nights a week, on Tuesdays and Thursdays, Flames of the Forest takes on an indigenous flavour, with two brothers recounting tales of their culture (backed by the obligatory didge) in an environment that was their childhood stomping ground.
The seven-dish platter embraces native essentials, such as reef fish and the likes of 'lemon myrtle infused kangaroo loin on a bed of wild rocket & toasted macadamia nuts garnished with homemade fig chutney'.
It's definitely a splash-out option (at from $216 per person), but worth tying at least once for the overall experience. See: Flames of the Forest
5. Old school Red Ochre
Long before Australia was MasterCheffed to breaking point, when thinking and sourcing locally wasn't a big deal in our restaurants, Red Ochre in Cairns (circa 1994) was spruiking the merits of crocodile and quandong.
The restaurant, formerly Red Ochre Grill, specialises in seafood (well, this is Cairns), but knows how to use a bush herb or two – try the wattleseed pavlova (sweets are a speciality).
You can go full native by trying the Australian Game Platter (croc, roo, and wallaby) or just try the native fusions on the side, such as quandong chilli glaze, on the side. See: Red Ochre