A pinch of good advice can go a long way when it comes to taking great holiday photos. And who better to give photography advice than multi-award winning and AAIP (Australian Institute of Professional Photography) Grand Master photographer David Oliver. Try out these simple tips for size (and let us know how you go)…
1. Go it alone
Designate some time for yourself to go out shooting alone. If you're travelling with family or in a large group, this ensures that you won't be holding anyone up or missing shots due to other plans. Sunrise or early morning are particularly good times to get out and spend an hour or two getting unique shots of the city 'waking up'. Natural light is very low in the morning, few people are out and about and, as a photographer, you're flying under the radar and capturing a unique perspective of your destination.
2. Try a small camera that's not obtrusive
A lighter and more compact camera set-up allows you to create your shots virtually unnoticed and aids you in capturing candid moments (for example, a Nikon D610 or Nikon D7100 with a 50mm lens*). We've been conditioned to expect holiday snaps to look something like a person or group of people standing in front of a picturesque scene, looking down the lens and smiling. This type of holiday happy snap is great for the family Facebook album, but try shooting some more of the candid, un-posed moments and you may be surprised how much you like them!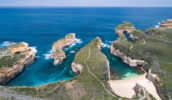 3. Keep your computer handy
Have a look at your pictures and edit as you go each day. Don't over shoot. It is increasingly common in the digital age to be 'click happy' and shoot as many pictures as your memory card will allow. You should carefully consider each shot and spend time composing it, before you click. This will not only save you loads of space on your computer and loads of time going through your images to choose the best ones, but make you a better and more considered photographer.
4. Carry a small tripod
If you want to do a night-time shoot, it certainly comes in handy. If you don't want to carry a tripod, get a small bean bag and fill it up with sand when you need to use it – you could even use a sock! This helps to keep your camera steady for the essential long-exposures in low-light photography.
5. Get to know your camera
If you've treated yourself to a new digital camera, chances are it has a myriad of settings. This, naturally, can be very intimidating to an amateur shooter, but spending some time with your instruction guide and shifting your camera into 'manual' mode will improve both your skills and your shots.
* David is a Nikon ambassador and hosted Australian Traveller on I Am Your Escape photography workshop, which coincided with the launch of Nikon's newest DLSR, the D810 (see My Nikon Life for more information). To see more on David's photography visit DavidOliver.com.au