Chris Smith's piece on Palazzo Versace being just as good today as she was when she first opened 10 years ago made me contemplate, what makes a great hotel? So I came up with the 5 ways a great hotel is like a supermodel. Here they are.
1. They Make A Place
Great supermodels are out of place in normal society. Walk into a party and the gangly giraffe with a mouth oversized for her face who could fall and break a twig of a leg at any moment is in fact a supermodel. Alternatively a catwalk without a supermodel is a silly little run way. Put a supermodel on the catwalk with her strut and it is suddenly a much more glamorous offering.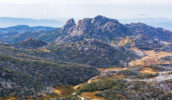 A great hotel adds to the location. It adds a whole sense of grandeur and specialness.  It's as if they were MEANT to be there. Some examples inAustralia are Palazzo Versace, Crown Towers, qualia and Wolgan Valley.  Or my favourite Australian city hotel Park Hyatt Sydney. As if that location could have any other structure but that hotel.
On the flip side you can look at a landscape and think – "Jeez you know what would make this place. A GREAT hotel."  A good example is Barangaroo in Sydney – but not a casino as I have said previously.
Or alternatively – "That building SHOULD be a great hotel." How about Blues Point Tower? Shouldn't we just gut that thing and turn it into an awesome hotel? Or how about a pylon of the Sydney Harbour Bridge. Or Flinders Street Station. Make that into a boutique hotel. How awesome would that be? Maybe Fremantle Prison?
2. They're Worth The Big Bucks
If you think anyone can model think again. Being a supermodel is…
Ok so I am the least qualified person to even attempt empathy with a supermodel but let's just say I have seen enough great but not super models work their magic for a cover shoot and it is not easy. They are worth every penny.
Take the cover shoot of issue 21. That shoot was challenging. The model, awesome Angela Shallis, did an amazing job in tough times. I hit a roo on the drive out to the Mundi Mundi plains. Poor Ange burst into tears. Her make up had been applied at 3am and now had to be reapplied in the middle nowhere. Meanwhile it was freezing. She lost the feeling in her hands and feet. Yet Ange managed to smile and laugh and look like she MEANT it. Its hard work and it pays off. That is still the best selling Jun Jul issue ever.
So it is for a great hotel. The pain, determination and effort it takes to make everything run as seamlessly and effortlessly for guests is invisible but worth it in the overall experience. It's a joy to behold and impossible to put your finger on one specific example but they make the stay that much more enjoyable.
The difference in quality experience is very much worth the extra cash.
3. It's A Little Slice of Fantasy
Yep, supermodels (for most of us) remain a fantasy no too dissimilar too the idyllic world of Disney or Pixar animated movies.
A great hotel is that same idyllic yet attainable fantasy. Just start saving.
4. They're Places of Great Drama
Step on up Naomi Campbell.
So it is with the great hotels. Just inSydneyin the last couple of years great hotels have been in the middle of some dramas. The Four Seasons was the hotel of choice for Ian MacDonald to snooze with a call girl paid for by the the reputedly dodgy developer Ron Medich . But the grand king of weird drama is Michael Jackson marrying his make up artist at the Sheraton on the Park.
Just plan weird!
5. Even In Old Age They Retain Their Grandeur (with  a little bit of maintenance)
So Elle Machperson looks after herself and still has it.
So a great hotel, like a supermodel has incredibly good bones.  Just look at Smithy's example, Palazzo Versace. The stone masonry of just the drive way will last for years. The rest of the structure follows suit.
My best example is the Four Seasons Sydney (sans the call girls of course). I remember sitting in the foyer of a place called The Regent as a kid gob smacked at the grandeur and glitz of it all. Today I still enjoy that lobby bar, particularly after she was given a little bit of TLC  and rebranded a Four Seasons.