Australian Brett Butcher has been global head of one of the most exclusive hotel brands on the planet since 2009.
The CEO, educated at the Queensland Agricultural College (now University of Queensland), is now in charge of 20 properties under the Langham Hospitality Group umbrella, including two in Australia: Sydney and Melbourne. This number could grow to around 50 in the coming years, including plans for two more in Australia(Brisbane and Perth).
We took a few minutes out of the Hong Kong resident's busy schedule to see what makes him (and Langham) tick.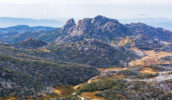 Q: You live in Hong Kong now. Do you miss anything about living in Australia?
My family. I always come back for my family. But sometimes I might come back and align it with an event like the Australian Open. I miss beating my brothers at tennis.
Q: How is the global downturn affecting Langham?
The whole world's been affected over the last little while and we've all struggled a bit, especially 2009 and '10.
Our China properties have been doing quiet well in 2010-13, no problems, really good growth. But China is now off the ball a little bit – not because of the growth, because demand is still growing strongly, it's just because there are too many hotels.
America is really starting to bubble along. Our Boston property is going to run its highest occupancy in a decade this year.
Q: Describe the pressure of being a CEO.
The pressure is there if you let it get to you, but I always think, just imagine how much pressure the President of the United States, or even the Prime Minister of Australia, would be under.
You've got to be able to just be in the moment. So with you and I, I'm not thinking about anything else except this conversation. I might know I've got 10 other things to do today but I'll get to them in the fullness of time. You've got to be able to box things. Finish it and then move on.
I've learned more of that as I've matured. I'm sure if I was 25 I couldn't handle the job I am in today.
Q: How do you relax?
I think the best thing for men is to be competitive in a sport. I play tennis, not competitively, but single or doubles with guys who want to beat me, so that's fun. I might play for a couple of hours and I come off and I feel quiet relaxed. Not just from the exercise but from the competition.
I sail too and that's why I like Hong Kong, but also why I would like to live back in Sydney. I sail the Flying 15s, a two-man, racing dinghy. No chardonnay on there, just sailing.
Q: What makes a great hotel?
A hotel has to have balance. When I travel on business, I'm also travelling on leisure, because when you go away for 10 days you've also got the weekend for recreation. When I go away for leisure, I also need to work – I can't take that week off completely. A beautiful leisure stay, but also completely connected.
Q: What is your favourite part of Australia?
I like the country and I really enjoy the Yarra Valley, Mornington Peninsula areas, quite beautiful and everything you want: a little bit of trekking, a little bit of biking, little bit of wineries. That's really a great part of what Australia has got to offer.
And that will attract the Asian market more and more –Australia can provide that in spades, in places like just outside of Adelaide and Margaret River as well.
Q: What disappoints you in a hotel?
When people assume things. Service with style is when people get to know you. Rather than assuming where he's coming from or what she will need, and giving him or her what everyone else gets, the idea is to give a bespoke stay. You should know your guests better than the next hotel.
Q: Where do you holiday?
My wife and I love travelling to Japan, to Tokyo – it's an exciting, fun place. We go karaoking with the Japanese (His song? Ronan Keating's 'When you Say Nothing at All: "sung very, very badly but it sounds better late at night").
We take a train into the country, check into a ryokan (traditional hotel or inn). We get the proper tatami mat and futon; meals catered in the room. And there is usually a hot spring so there's a spa to go to and you can go for walks in the village and the mountains.
Q: Are Australians more accepting of luxury these days?
We are much more broad minded now. I had to leave Australia to get my hotel career going because when I graduated there weren't that many great hotels around. Therefore, there weren't that many jobs – that's why I started running restaurants on the Gold Coast.
Luckily I got accepted on a graduate exchange to North America, the company (Sheraton) I stayed with for 20 years. You can actually do that in Australia now.
Q: Favourite hotel?
The romance, luxury and history of the Langham in London. It's been there 150 years, before the Civil War in America. Who has sat in that lobby? Napoleon has sat in that lobby; Oscar Wilde has sat in that lobby; Churchill has sat in that lobby, King Edward has sat in that lobby. And the outside looks like it did 150 years ago.
Q: What would your 18-year-old self think of you now? Any advice for him?
I'm an Australian so I act Australian. So I think someone looking at me, as an Australian trainee manager, could potentially be able to understand and communicate with me pretty well. When I was a trainee as an Australian in America, the president of that company at that time may have been approaching life a little differently than I approach it.
Advice? I don't want to see someone go into a hotel for 18 months and then leave. I want to see them stay in a hotel for three, four years and go through a good period and maybe a down period, show some tenacity. I've only worked for two hotel companies. I have had only two jobs.
Steve Madgwick