A Detours and Diversions article for Australian Traveller on Captain Starlight visiting 50 Australian towns in 50 weeks.
I WANT TO . . .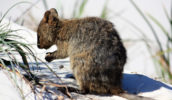 Visit 50 Towns In 50 Weeks
Any travel schedule is possible, just think of the unlikely and make it happen. Ever dreamed of crossing the Nullarbor? Of driving a 4WD through the Kimberleys? Or sailing the Whitsundays single-handed? Whatever it is, start planning now . . . By Kim Richards
If going around the world in 80 days seems too much for you, how about 50 towns in 50 weeks? The Starlight Children's Foundation Australia began just such a trip in May 2006 and are scheduled to fill up at their last Caltex in April 2007. The journey, although exhausting, turned out to be an exhilarating yearlong jaunt covering more than 35,000km and bringing joy to at least that many souls. Around 600,000 kids are hospitalised each year across Australia, with about 35 percent of those from regional communities. With only a purple van to use as a postcode, the Starlight team hit the road in an attempt to highlight the magic of cruising the open road for a worthy cause.
Team leader Captain Starlight and crew set out to spread laughter to hospitalised children in every corner of the country, from iconic landmark to remote location dotted throughout the Red Centre. The touring team belted out tunes in Tamworth, the home of country music, lapped up sunrays in Cairns, were caught in traffic jams as the sheep and cattle blocked lonely strips of never-ending road, bobbed along Broome's Cable beach on camels, cruised the Great Ocean Road, visited the historic town of Cloncurry, marvelled at Devil's Marbles and flew over Broken Hill on a joy flight.
All major Australian highways were tackled, dusty roads dominated and kilometres upon kilometres of open nothingness conquered. Since the challenge was billed as the "longest road trip going around" and showed off the soul of the land, sponsors lined up to support the magic of Starlight's cause. Countless hospitalised kids had brighter days because of their efforts, and total strangers backed the initiative by offering hospitality and enthusiasm across the country.
One of the Captain Starlights – of which there were many, all volunteers – reflected after it was all over: "More than the beauty of the Australian landscape, it's been the people who've made the journey so rewarding. It's my happiest road trip yet." For more info on the path travelled or to donate to the Starlight Children's Foundation Australia, check out www.starlight.org.au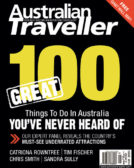 Enjoy this article?
You can find it in Issue 14 along with
loads of other great stories and tips.