Our coastline might be beautiful, but it's certainly proven a headache for many a ship's captain over the centuries. Hundreds of vessels have found themselves spiked on a hidden reef or lurking shard of rock, taking on water and sinking forever – or remaining perched above the surface, a constant reminder of the dangers of our shores.
The upside of this is that we now have many historic shipwrecks to gawk at, dive on, or study in seaside museums. These watery time capsules make a great talking point to get children interested in our fascinating seafaring history. So much more fun than staying at home and watching Titanic!
Try these
The Batavia was shipwrecked on the Abrolhos Islands off the coast of WA in 1629. You can see the reconstructed remainder of the wreck (along with other unfortunate vessels) in the WA Museum.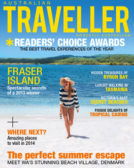 Enjoy this article?
You can find it in Issue 54 along with
loads of other great stories and tips.