Western Australia
Ed's note: As a result of vandalism, the concerns of traditional owners and the fact that many rock art sites are located on private land holdings in the Kimberley and Pilbara regions, there are very few accessible sites. Those wishing to visit the incredible sites that are located in the area should book with an accredited tour operator. Private access is extremely limited.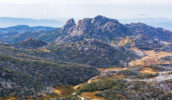 There's no doubt the Kimberley has a massive concentration of rock art, some claimed to be 50,000 years old. The earliest phase of Kimberley rock art comprises handprints and imprints of grass and other thrown objects, followed by large naturalistic figures of humans and animals, including extinct species.
The second phase in the region are called Bradshaw figures, named after pastoralist Joseph Bradshaw who first described them. Most of the figures are small and animated ranging from 10cm to 80cm high and have been painted with a feather or hairbrush in shades of red to purple ochre. The rock painting motifs are estimated at more than 16,400 years old.
The most recent phase comprises the Wandjina spirit paintings. Located in central and western Kimberley, south to Napier Range and east to Forest River, these huge colourful paintings of an ancestral creation being are usually surrounded by edible animal or vegetable items, which relate to the rituals that were performed in the rock shelters. One of the most recognisable themes of the Wandjina spirit paintings relate to the Rainbow Serpent Dreaming that tracks throughout the Kimberley.
Further to the southwest, the art of the engravers reaches its height in the Pilbara. Ancient geometric figures, concentric circles, tracks and lines are featured in depictions of animals, often life-sized, and humans on granite boulders. These petroglyphs reach their zenith at Woodstock where long, sinuous, human-type figures are shown in silhouette running, dancing, fighting and even lovemaking.
On the Burrup Peninsula and in the Dampier Archipelago, where increased vandalism of rock art in recent years and continued and growing industrialisation of the peninsula and surrounds could threaten these important engravings, more than 20 engraved images of an ancient thylacine have been identified as recently as 2004. Thousands of petroglyph sites have been identified in this region and hundreds have been destroyed.
Accessible Sites:
Winjana Gorge NP, near Fitzroy Crossing

Bungle Bungles, Purnululu NP, south of Kununurra
Central Highlands Qld
Stencil art is found over most of Australia, but it developed most strongly in the Qld Central Highlands where most of the rock art paintings are stencils. The motifs of hands, feet, pendants, axes, clubs, boomerangs and other artefacts are arranged in decorative patterns and stencilled with red, yellow and black pigment, which stands out vividly against the white sandstone walls.
Colourful and striking as art, these stencils are also a valuable record of local material culture, although they've been subjected to innumerable graffiti and other vandalism in recent years.
The predominant location is Carnarvon Gorge. At Cathedral Cave the stencils of Melo shell pendants are an ancient record of trading, since the shell is only found on the north Qld coast. Other stencils are masterful and are created into imaginative composite designs, such as the motif of a 10m long coiled snake that incorporates 284 individual diamond-shaped stencils. In a cave called The Tombs is the complete stencil of a man with arms outstretched.
Accessible Sites:
Carnarvon Gorge NP,

Cathedral Cave, Baloon Cave and the Art Gallery, 90km north of Roma, turn onto the Carnarvon Hwy at Injune then a further 160km to the National Park
Tasmania
Tasmania appears to have been one of the earliest settled areas in Aboriginal history, with the oldest site, Warreen, estimated at 35,000 years old. While a number of rock shelters and caves in the southwest contain red ochre hand stencils , the best-known sites comprise of open engraving sites, mostly along the northwest coast at Mt Cameron West, Sundown Point and Greens Point, all near Marrawah about 491km north of Hobart and 297km west of Launceston, via the Bass Highway.
Circles are the predominant engraved motif, ranging in diameter from more than a metre at Mt Cameron West to only 3cm at Mersey Bluff. There are also concentric circles, spirals and rows of dots. Figurative motifs depicting animal tracks, shells and emus occur at a few sites. Sadly, there's almost no information about the cultural significance of the Tasmanian rock art sites. None are believed to be less than 1500 years old.
Rock art in Tasmania is a particularly sensitive issue since there has been considerable vandalism in recent years. Early this year a large section of a cave was removed from Sundown Point. As a result of this, authorities ask visitors to respect the sites and understand their historic significance. Many sites are no longer listed for the public to visit.
Accessible Sites:
Mount Cameron West, northern end of a nearby beach

Sundown Point, 8km south of the mouth of the Arthur River

Green Creek, near Marrawah, Tasmania's westernmost settlement
Central & northwest Qld
Characterised by the predominance of stencilled hands, feet, implements and grid patterns (many as geometric and zigzag designs) and a variety of simple engraved motifs such as lines and tracks, this style of rock art extends throughout Central Qld, as far north as the river headwaters of the Gulf Country.
The legacies of petroglyphs and hand paintings near Winton and Blackall have been dated back 50,000 years. Most of the art consists of colourful but basic hand paintings and ochre drawings. The Rainbow Serpent is a major mythological being for Aboriginal people of northern Australia through creation stories, so these figures can be found in almost every location in the region. The Aboriginal name, Boodjamulla, means Rainbow Serpent Country. Here stencils of boomerangs, axes, clubs, spears, dilly bags, containers and shields show the range of traditional tools and weapons. The rock art appears to document the aspects of cultural change over a period of thousands of years.
Accessible Sites:
Mount Cameron West, northern end of a nearby beach

Black's Palace, near Blackall, and Carisbrooke Station, near Winton

Kajabbi and Boodjamulla (Lawn Hill) NP, north of Mt Isa

Near Dajarra at Black Mountain, south of Mt Isa.
Northern Territory
The proliferation of rock art in the NT is stunning. From Arnhem Land, through Kakadu to Victoria River, Alice Springs, Uluru and Cave Hill (above), the sites resonate with Dreamtime stories of Aboriginal culture dating back 60,000 years. It's believed that the most recent painting was done at Nourlangie Rock in 1963.
Arnhem Land is a rock province of considerable international prominence. The earliest traces of human occupation yet found in Australia are at two rock shelters in the region with evidence of painted forms by artists 60,000 years ago. Most of the sites discovered are within Kakadu, where the current estimate runs to as many as 7000 sites.
Injalak Hill at Oenpelli and Mount Borradaile (above) are two of the more recognised sites, with rock paintings dating from 55,000 years ago. Depictions of first contact that characterise sailing ships, rifles and corn pipes have been painted over more ancient figurative stencilling of boomerangs, kangaroos, birds, fish and human figures.
At Victoria River, south of Katherine, large numbers of rock paintings, drawings, stencils and engravings are found. The Lightning Man is also predominant: an example of the elaborate x-ray form, in which skeletons and internal organs of creatures are portrayed as well as external features.
Central Australia offers a contrast of rock art styles, and the paintings are particularly vibrant and colourful, featuring a multitude of figures including fish and lizards. The rock art generally takes the form of both figurative and geometric components on the rock surface using a variety of coloured ochres readily available in the Western MacDonnell Ranges.
Around Uluru, Kings Canyon and Cave Hill in the Musgrave Ranges the rock art holds deep Aboriginal cultural significance. The more spectacular motifs are located at Cave Hill where there features a higher figurative content with dingoes, snakes, lizards and other creatures of the Red Centre. The public sites at Uluru have suffered from the constant stream of visitors since the 1960s but their relevance is no less important. The oldest rock art in the area has been dated at 40,000 years.
Accessible Sites:
Mount Borradaile, Arnhem Land
Injalak Hill, Oenpelli, Arnhem Land
Cave Hill, Musgrave Ranges
Uluru-Kata Tjuta NP
Litchfield NP
Timber Creek, near Katherine
Western MacDonnell Ranges, Alice Springs
Watarrka NP, Kings Canyon
Victoria
Much of Victoria's rock art lies in the sandstone ridges of the Grampians. Here there are handprints and stencils, paintings of small stick figures and abstract linear motifs such as lines, bars and circles, almost all in red ochre applied with the finger. The motif range is limited but the Lizard Man is predominant.
Aboriginal occupation of the Grampians dates back beyond 5000 years and the area contains the majority of Aboriginal rock art sites in southeastern Australia. Manja Shelter and Ngamadjidj Shelter are regarded as the significant sites. At Mount Langi Ghiran there are two Aboriginal rock art sites. Painted motifs at the Cave of the Serpent have been repeatedly renewed, indicating a ritual importance. Yeddonba, considered a lesser rock art site, is located in the Chiltern-Mt Pilot National Park.
Accessible Sites:
Brambuk NP & Cultural Centre, the Grampians NP, adjacent to the National Parks Visitor Centre, Halls Gap

Cave of the Serpent, Langi Ghiran State Park, adjacent to the Western Hwy 80km west of Ballarat

Chiltern-Mt Pilot NP, 275km northeast of Melbourne
Australian Capital Territory
The region of southeastern Australia contains mostly paintings and some drawings of anthropomorphs, stick figures, animals and abstract linear designs, with three rock art shelters located in the ACT.
While no definite chronology is available, it's estimated that the occupation by Indigenous Australians stretches back at least 3700 years. A rock shelter at Birrigai, just north of Namadgi National Park, contains evidence that Aboriginal people were living in the region 21,000 years ago, during the last Ice Age. However, there are some motifs of packhorses, which indicate far more recent activity.
Accessible Sites:
Namadgi National Park – Namadgi Visitor Centre, Naas Road (2km past Tharwa)
South Australia
Stretching for 600km, the Flinders Ranges feature the highest concentration of rock art in the state. Noted for the geometric and track petroglyph styles emphasised by circles, dots, crescents and other complex designs. Generally know as Panaramitee, after the first sightings on Panaramitee Station in northeast SA, there are also detailed figurative petroglyphs of birds, kangaroos, emus and human faces.
There are rock art paintings at Arkaroo Rock nearly 6000 years old. They're either drawn, using dry pigments like ochre or charcoal, brushed or applied by finger using wet pigments mixed with water, animal fat or blood.
At Yourambulla Caves and Sacred Canyon, some of the paintings date back just 600 years, but the rock engravings are much older, depicting roo and emu tracks as well as ceremonies. However, it's the rock engravings at Karolta that are causing the most buzz in archaeological circles. These petroglyphs have recently been dated at about 40,000 years, making them among the oldest in the world.
At Mount Gambier, deeply abraded engravings appear on the vertical limestone walls at Paroong Cave and Koongine Cave showing finger lines that are estimated at over 1400 years old.
Accessible Sites:
Chambers Gorge, between Arkaroola and Blinman

Red Cave, Flinders Ranges NP

Yourambulla Caves, south of Hawker

Wilpena Pound, Flinders Ranges NP

Arkaroo Rock, Flinders Ranges NP

Scared Canyon, Flinders Ranges NP

The Aboriginal Dreaming Trail, in the northern part of the Central Flinders Ranges
New South Wales
Aboriginal people have lived in the area known as New South Wales for at least 45,000 years, where there are over 35,000 known rock art sites. The most colourful galleries lie in the west, in the Cobar and Bourke region, where small, lively, red and white figures dance across the walls of dozens of shelters. Petroglyphs are also found, but these tend to be pecked rather than outlined and are dominated by tracks and circles, like the ancient petroglyphs of southern and Central Australia.
In western NSW, the paintings and drawings are of very different styles to those on the coast. The shelters at Mount Grenfell Historic Site (where one of the galleries extends some 26m) and Gundabooka NP contain hundreds of small brightly painted animals and dancing figures. Further west at Mutawintji NP there are stencils and paintings of a different style. Meanwhile, in the northeastern highlands, the figures are painted in outline. Mt Yarrowyck has some of the best examples of these motifs.
While hundreds of sites south of Sydney have been identified, key locations are Mundamia Creek and Sandy Creek in the Shoalhaven area, Burrill Lake and the Beecroft Peninsula at Currarong, where evidence of a 20,000 year occupation exists in a large rock shelter, Bega, Durras Mountain in the Murramarang Ranges, Bass Point and Clear Point.
Accessible Sites:
Mutawintji NP, between Broken Hill and Wilcannia

Gundabooka NP, south of Bourke

Mt Grenfell Historic Site, near Cobar

Sturt's Meadow, Mootwingee and Euriowie, near Broken Hill

Mungo NP, northeast of Mildura

Mt Yarrowyck, near Armidale

Burrill Lake, near Mollymook

Mundamia Creek and Sandy Creek, near Nowra

Murramarang NP, near Durras
Cape York Peninsula & Western Qld
Cape York contains one of the most colourful and prolific bodies of rock art in the world. Enormous naturalistic figures of animals, birds, plants, humans and spirit figures adorn the walls of hundreds of rock shelters, with some sites estimated at more than 35,000 years old.
In the Laura district southwest of Cooktown, hundreds of rock shelters containing painted figurative and non-figurative art, comprising outlines and solid silhouettes of a great variety of subjects. The local elders refer to the site as Quinkan, the name of the local spirit beings, and it's been listed by UNESCO as one of the top ten rock art sites in the world. The Koolburra Plateau houses at least 175 recorded rock art sites. It's been identified as a 6000-year-old occupation.
It's known that the Laura painting style used in the area must have continued into the 1800s because there are a number of modern subjects, such as horses, pigs, rifles and figures that look suspiciously like native police, presumably painted no earlier than the Palmer River Gold Rush of 1873.
Accessible Sites: 
Gundabooka NP, south of Bourke

Koolburra Plateau 43km northwest of Laura

Quinkan Rock Art Reserve, south of Laura

Lakefield NP, north of Laura

Mickey Springs, northeast of Hughenden

Thomson and Flinders Rivers, northeast of Hughenden

Flinders Group NP, between Cape Melville and Princess Charlotte Bay
Sydney Region
There's a huge concentration of rock art in and around Sydney. Some 4000 sites have been documented. All of the national parks and local council areas in the region have fine examples of paintings, drawings, stencils and engravings.
Generally the sandstone paintings are larger and include more marine subjects, but the outstanding feature of the Sydney region is the engraved art. There are thousands of outline petroglyphs, and the figures are usually approximate life size. Subjects range from whales to lyrebirds, from dingoes to sailing ships, from emus to even what appears to be a lady in a crinoline dress. By far the most impressive are the engravings, some of which are enormous – one whale is up to 18m in length!
Paintings and drawings can still be found where they're protected from direct rain and sun, such as rock caves, rock shelters and cliff faces. For instance, Red Hands Cave in the Blue Mountains contains fine hand stencils and handprints created between 500 and 1600 years ago.
More than 800 Aboriginal sites have been recorded in Ku-ring-gai Chase NP, including rock engravings that show evidence of Aboriginal occupation for at least 11,000 years. At Shark Point, near Nielsen Park, there's an engraved image of a sailing ship reflecting the earliest meetings between Europeans and Aboriginal people.
Nearly every council has documented rock art sites and can provide information on public locations; for instance, Mosman Council has 79 recorded sites. One of the most accessible is a rock shelter open to public view at the southern end of The Esplanade at Balmoral Beach, opposite the swimming pool.
Accessible Sites: 
Red Hands Cave, Blue Mountains NP

Hands on the Rock Cave, Wollemi NP

Red Hands Cave, West Head in Ku-ring-gai Chase NP

Echidna Aboriginal art site, 2km from the Resolute Picnic Area

Rock engravings on The Basin Track off West Head Rd

Aboriginal cave shelter site on the Resolute Track, West Head

Bulgandry engravings in Brisbane Water NP

Finchley engravings in Yengo NP

Engravings at Shark Point near Nielsen Park in Sydney Harbour NP

Engravings at Grotto Point on Dobroyd Head

Rock shelter, southern end of The Esplanade, Balmoral Beach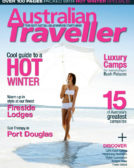 Enjoy this article?
You can find it in Issue 16 along with
loads of other great stories and tips.