Bush tucker: what is it, where is it, and does it all taste like chicken? Sally Hammond leaves no stone unturned in her search for Australia's most authentic outback ingredients.
"There's plenty of food here," says Kingsley Coulthard, adjusting his wide-brimmed hat and indicating what appears to be not just unfriendly but positively barren scrub. Our bush tucker tour group sees nothing. Kingsley, on the other hand, is in his larder.
At the time of my visit, Coulthard with his uncle Sharpy were guides for the regular bush tucker tours at Arkaroola Wilderness Sanctuary in SA's northern Flinders Ranges. During the two-hour walk they coached us on the riches of this amber earth: a host of seeds and berries – summer fruits like the native orange, which resembles a mango inside, quandongs, emu bush, wild hops – just a few of the 600 or so foods you can find here. By tour's end, while most of us would never presume to put our own bush skills to the test, we certainly had a deeper appreciation for those who can and do.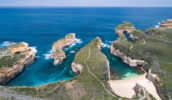 Centuries ago, all ofAustralia's food was bush tucker – food that hopped, crawled, slithered or grew in the land then populated entirely by Aboriginal people. They herded no animals and planted no crops, relying on the harsh, hot land for every mouthful. In hard times, every waking moment was spent foraging for food. Little wonder that they soon instinctively knew which piece of bark might hide a grub, what valley would attract wallabies or emus in the evenings, or which leaves and berries could safely be eaten. Their lives depended on it.
When the white man came, everything changed overnight. Driven back from their hunting grounds, the Aboriginals had to learn to find and use new foods, while from the colonist's camps drifted strange smells: baking bread, roast pork and lamb, strange vegetables stewing in water, and sweet fruits they'd never seen before.
Unfortunately curiosity and fear on both sides prevented much sharing of knowledge and while most Aboriginals have now acquired a taste for Western food, until very recently the cuisine ofAustralia's native people has been largely off the menu for most white people.
As the British explorer Major Mitchell wrote in 1848: "Such health and exemption from disease; such intensity of existence, in short, must be far beyond the enjoyments of civilised men, with all that art can do for them." Australians today call this bounty of nuts, seeds, fruits, leaves and roots (as well as the edible wild life) "bush tucker".
It's only recently that these unusual and rare foodstuffs have been catalogued and described, much less become available to the general public in restaurants and shops.
SO WHAT IS BUSH TUCKER?
If you wince at the idea of witchetty grubs, take heart: the Australian bush has much more to offer. Restaurants throughout the country are beginning to use natural bush foods as part of their regular ingredients. Now supermarkets and specialty stores also stock them. Here's just a few ways you can make use of these unfamiliar ingredients in your own cookery:
Akudjura (bush tomatoes) taste of caramel and tamarillo and suit savoury or sweet dishes. Bunya-bunya nuts, similar in size and flavour to a chestnut, are fat-free and just as versatile and nutritious. Crocodile has a delicate flavour like chicken, emu is lean and low in fat and delicious when prepared properly, while kangaroo is being hailed by nutritionists as a health food because of its low cholesterol.
Kakadu plum is the world's highest source of vitamin C. Lemon aspen has a very tart grapefruit scent and flavour. Lemon myrtle leaves add an aromatic zing to everything from herb butter to fish dishes. Macadamias are so versatile and delicious that Hawaii claimed them years ago. Munthari berries are apple-flavoured and delicious in pies and flans. Native pepper is an exotic ready-made accompaniment to bush or western food, and paperbark keeps steamed or baked meats moist and tender.
Quandongs (or native peaches) add a tart interest to meats and desserts. Rosellas, used to make sauces and jams, are from a plant – not the feathered variety. Warrigal greens are being used to make pasta or can substitute for spinach. Wattleseed, when roasted and ground, can provide the basis for a cappuccino, gravy or bread. And of course our rivers yield freshwater crayfish such as marron and yabbies and the oceans and bays surroundingAustraliaare full of fascinating local seafood such as oysters, Balmain andMoretonBaybugs, crab, rock lobsters, scampi, octopus, mussels and a huge variety of fish. While these may not be strictly "bush" tucker, many are uniquely Australian.
NATIVE SPIRITS
The Australian Aboriginal culture is almost unique in that in its natural state alcohol seems to have been unknown. Perhaps the harsh climatic conditions, the constant wandering lifestyle or the lack of suitable containers for fermenting fruits made creating alcoholic beverages impossible. Certainly it wasn't the lack of suitable fruit, as people today are now discovering.
Michael Jaggard is one such person. He's the inventor of Jaggard, the drink subtitled "spirit of the outback", a pungent liquor ideal for mixed drinks or cocktails, beautifully packaged in elegantly labelled bottles. A chef for 11 years, Jaggard discovered his love of bush tucker many years ago and from there developed the secret process that blends pure alcohol with quandongs, maintaining the complex flavour of this so-Australian fruit without need of preservatives in a 30 percent alc/vol product. It became our first truly native premium spirit.
The resulting flavours are a combination of citrus, berry, apricot, vanilla and a hint of ginger, best highlighted simply with soda or sparkling mineral water and a slice of lime, although Jaggard also says it's ideal on the rocks, as a shot with a dash of cream, with orange juice and crushed ice, or with milk or even champagne.
Delighted with the reception to this drink, Jaggard next developed a lemon myrtle as well as an aniseed myrtle spirit, both derived from the leaves of native trees, and these are now available in many bars, restaurants and bottle shops (Outback Orchard International, www.jaggard.com.au).
Far away in Tasmania a very different spirit is abroad. Don't you just love serendipitous discoveries? Some years ago, Lyn Lark, then the only woman distiller inAustralia, was attempting an Aussie version of gin. Wondering if Tasmanian mountain native pepper berries might provide a similar result to juniper berries, she created Tasmanian Bush Liqueur, 32 percent alcohol with an amazing spicy flavour.
Native pepper is a small tree with dark glossy foliage indigenous to cool mountain areas of southern Australia. The aromatic leaves can be used fresh or dried and powdered, and the berries have a distinctive, spicy, pungent taste. The liqueur, as well as Lyn's single malt whisky, Tasmanian apple schnapps (40 percent) and apple liqueur (25 percent), which is like a sweet schnapps, are available from their sales centre in Hobart (Lark Distillery).
Finally, at Nimbin in far north of NSW, a small producer has created a wine from Davidson plums (Davidsonia pruriens), a fruit abundant in the rainforests of northeastQueenslandand NSW. The latter part of the Latin name "pruriens" means an itching sensation, and is a reference to the hairy surface of the leaves and stems. The purple edible fruits grow up to 5cm in diameter and resemble small plums which, when fresh, aren't very palatable – but make excellent jams and, in the case of this producer, a full-flavoured, dry red wine (Australian Bushtucker Wines, [02] 6689 0220).
WHERE TO FIND BUSH TUCKER
The good news is that it's not necessary to be as skilled as the Coulthard family – who now lead tours at Iga Warta in the northern Flinders Ranges – to enjoy Australia's native foodstuffs. In addition to other bush tucker tours in country and outback areas, there are restaurants and cafes that prepare bush foods in many cities and towns throughout the country. Try these links for further info:
www.cherikoff.net/cherikoff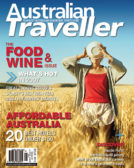 Enjoy this article?
You can find it in Issue 13 along with
loads of other great stories and tips.