Cruising in Australia doesn't have to leave travellers with little pocket change.
The Barefoot Captain
It's a common belief that ocean voyages are the domain of the very old or the very wealthy, but AT has discovered affordable luxury on the high seas. Come for a cruise aboard the Trinity Bay, Australia's last working passenger-cargo ship, and set your sights on the horizon.

Dressto impress? Or to kill? Say what? There's none of that aboard the Trinity Bay, where most passengers are clad in T-shirts and shorts. The flip-flopping sound of thongs hitting deck reminds you that this voyage is unashamedly pitched as an affordable cruise – for people who want to be themselves, rather than tote suitcases filled with expensive designer clobber.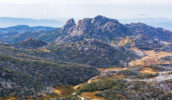 On many cruise liners, onboard newsletters, slipped daily under cabin doors, are crucially important. They contain vital information on how to dress for dinner. Officers' dress codes direct passengers when to be formal, semiformal or merely "smart casual." Defy these rules – because you're paying – and you probably won't be turned away. But you'll certainly be made to feel uncomfortable.
All of this is a world removed from the onboard ambience you'll encounter aboard the Trinity Bay, Australia's only significant coastal passenger-cargo vessel. Even the captain is in jeans and bare feet much of the time. Drew Paskin, one of a roster of skippers and an easygoing veteran of many of the world's more obscure ports, is informal but he nonetheless runs a tight ship with a well-trained team. The chief engineer comes on deck for a breath of sea air. He rolls a cigarette wearing oily overalls and a smile. You wouldn't dare ask for the name of his manicurist.
At a buffet breakfast – with scrambled eggs, sausages, canned beans and canned spaghetti – you're politely asked to scrape your plates afterwards, before dunking them in a sudsy bucket and stacking them in a pile near a dishwasher.
All meals are buffet-style. No obsequious waiter asks: "Madam, may I refill madam's coffee?" Here, you bloody well fetch your own. Only three of the 13-strong crew take care of up to 35 passengers; one of these is the cook.
The style is home fare, with an emphasis on tasty roasts and stews. The Trinity Bay is reminiscent of an RSL club, an earthy no-frills experience, and what's more, passengers clearly approve of the take-it-or-leave-it and clean-up-after-yourself policy. It's not fancy but it's what they want. They can relax. "Now and then we get a really demanding passenger," confides Drew. "We have to explain that this is a working ship, not a cruise liner. That's a big part of its appeal. And another thing: we don't charge cruise prices."
As one crewmember tells it: "Snobs? They wouldn't feel at home with us. They'd want to dress for dinner, mate.  If that's the experience they're after, there are plenty of alternatives offering it – but we offer something altogether less formal. Sometimes the majority of our passengers are on second or third voyages, so they obviously like our style."
It's difficult to take issue with his viewpoint: the Trinity Bay hardly ever advertises but is often fully booked. Word-of-mouth praise ensures reservations.
Prepare to board
A laidback attitude permeates the entire vessel. Should you want a drink from the bar but find no-one on duty, you're advised to "poke yer head in the kitchen and yell."
Cabins are surprisingly large: comfortable rather than luxurious, of similar standard to rooms in plain-vanilla motels at the edge of many an Australian town. Not all have ensuite facilities, so you may find yourself padding down the corridor as at a non-refurbished country pub. Those with bathrooms and toilets are often booked out first but you'll be pleased to find that communal facilities are clean and well maintained.
"So this is it?" you'll find yourself wondering as you first lay eyes on the Trinity Bay at its Cairns mooring. The ship looks small, with passengers squashed into a tiny aft section. Fortunately, that first impression is misleading; she's adequately spacious for a short voyage, with an aft deck area for use by passengers and crew (and the only place where smoking is permitted).
At 80m and a mere 1594 tonnes, Trinity Bay is no rust bucket. She was built in South Korea in 1996 as a sand dredge, but a sudden Asian financial downturn sparked her sale.
The new owner, Cairns-based Sea Swift Pty Ltd, rechristened her to be the latest of a succession of ships of the same name on the north Queensland route, with conversion to passenger use completed in a Philippines shipyard. She's been on her weekly run for more than six years now.
Each Friday afternoon, the ship leaves Cairns on a 1000km journey up the far north Queensland coast to the Australian mainland's northernmost tip, and just beyond to Thursday Island, the economic heart of the Torres Strait islands. Passengers opt either for north or southbound two-night trips – or a round-trip five-night voyage (with one night in port). The Trinity Bay reaches Horn Island on Sunday mornings, near-neighbour Thursday Island on Sunday afternoons, and Bamaga on Monday mornings, arriving back in Cairns each Wednesday.
Exactly who – and what – is on board?
A mystery of domestic ocean travel is that few occasions exist to experience the long Australian coastline aboard a working ship. A modern six-passenger vessel shuttles with cargo between Karumba and Weipa in the Gulf of Carpentaria, but the operators make no effort to woo custom. Hard-to-find opportunities sometimes surface for travel on other freighters.
However, the Trinity Bay is unique, with substantial stakes in both freight and passenger transport. Business is thriving.
Backpackers commonly unearth tourism oddities but this ship – though carrying the occasional backpacker – has sailed into the mainstream market: its manifest is commonly a mix of young couples, families with children and a strong Grey Nomad segment. Some passengers load 4WDs or cars aboard, travelling by sea in one direction and fulfilling long-held dreams to drive the length of the Cape York Peninsula in the other.
This maritime link is essential to supply isolated mainland settlements as well as Thursday Island, where some cargo is hoisted onto barges for destinations in outlying isles of the Torres Strait group. Up to 3500 tonnes of freight can be carried. Well-secured deck cargo includes containers of food and other necessities, as well as consignments of vehicles, timber, bricks, cement, boats, machinery, petrol, kerosene, pigs, dogs – and beer by the pallet.
The Trinity Bay is seldom out of sight of land, traversing calm waters within the reef and giving you plenty of time to gaze at the rugged coastline of the Cape York wilderness, as well as uninhabited islands along the northern Great Barrier Reef. Kids take over a video room just off the restaurant. Adults find seats on deck, perfect vantage points from which to watch the coast slip by, to read a book or simply doze.
There's undeniable pleasure in watching other people work: knots of northbound passengers gather to observe the transfer of containers to a barge able to negotiate shallows shielding the Lockhart River Aboriginal community on the east coast of Cape York. A couple of other stops are to supply fuel to mother ships, which in turn fill the tanks of prawn trawlers, the lights of which you'll see twinkling each night.
Major sightseeing destinations are Thursday Island and the mainland settlement of Bamaga (with its port of Seisia). "TI" – as the locals call it – boasts a relaxed and compact urban area, shaded by mango and fig trees. Stroll amid shops selling arts and crafts, drop in at a couple of galleries and wander through the impressive Gab Titui Cultural Centre with historic and cultural artefacts from even the furthest isles in the group. (The welcoming Torres Strait people are Melanesian, kin of Papua New Guineans to their immediate north.)
Later, you'll wander among century-old graves of 800 perished Japanese pearlers before visiting the 19th Century fortifications at a hilltop lookout. A quick beer at the waterfront Federal Hotel is recommended (slogan: "Get full at the Fed"), with its rambunctious tavern-of-the-seas flavour, where islanders play pool overlooking the harbour. That should precede a side trip by water taxi to Roko Island's pearl farm. Nip over to Hammond Island where the community is particularly proud of its hand-hewn stone church, and squeeze in time to see Horn Island's World War II slit trenches, war museum and collection of military memorabilia.
To fit all this into a day, make use of plentiful water taxis zipping between close-together islands. Leave the Trinity Bay at Horn Island, taking a ten-minute water taxi ride to TI, and rejoin the ship late in the day. Back on the mainland, a bumpy drive from Bamaga (with tours available) leads to Australia's signposted but middle-of-nowhere northernmost tip, a memorable photo opportunity.
Once back on board, you'll likely find a minority of passengers who've chosen not to set foot off the vessel. Attractions on land hold no allure, especially for locals. Instead, they'll spend a day on the shady deck, working up a sweat by watching others unload and load freight.
For them, this is luxury enough. The journey rather than the destination provides their pleasure.
DETAILS: Trinity Bay
Sea Swift Pty Ltd
Phone: (07) 4035 1234
Website: www.seaswift.com.au
Cost: Per person twin-share fares are from $470 one-way with ensuite, or $360 with shared facilities. Return voyages are from $910 and $690, including all meals but not drinks or sightseeing tours. Vehicles are transported at $800 northbound and $690 southbound. Thursday Island has plenty of accommodation in all price categories available to travellers who take one-way trips. Various operators (with brochures at lodgings) offer game fishing or tours – and trips to outer Torres Strait islands, one of which has a resort.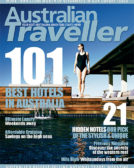 Enjoy this article?
You can find it in Issue 9 along with
loads of other great stories and tips.