AT's Alissa Jenkins sets sail on Sydney Harbour onboard a restored 19th Century tall ship, the James Craig.
On a mild August evening in Pyrmont, Sydney, I arrive to find her waiting patiently. She's much taller than I anticipated. Appearing strong and solid, she hides the hardships of her former years well. But I still can't ignore that she has a 'he' name – James Craig.
A 19th Century tall ship in Sydney Heritage Fleet, the James Craig resides in the city's harbour, offering the public an opportunity to sail around Farm Cove and into the past. There are only four surviving, operational tall ships like her in the world – James Craig is the only one in the southern hemisphere.
As I climb aboard the barque (a type of sailing vessel with three or more masts), I feel the deck subtly tilt as she bobs on the waters' surface, but I soon adjust. Shortly after, the James Craig pulls away from the dock and slowly begins to glide across the harbour.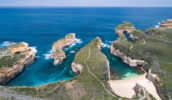 I stand at the ship's side and watch the silhouette of the city go by. The night sky and city lights, coupled with a gentle sea breeze and the old-world charm of the ship, make for a very romantic experience.
I find it difficult to fathom just how old the vessel is. The restoration of the ship, complete with a new kitchen and modern amenities, has created a bizarre blend between old and new.
Nonetheless, historic she is. Built in England in 1874, James Craig was originally named the Clan Macleod and sailed the trade routes of the known world for 26 years. It wasn't until she was purchased by a Mr J.J. Craig of Auckland, that she was renamed James Craig in 1905.
In the years that followed, the ship was used as trans-Tasman cargo carrier; a copra hulk in New Guinea and a coal hulk in Tasmania, before being damaged during a storm at sea and left abandoned on a Tasmanian beach.
She was rescued in 1972 by volunteers of the Sydney Heritage Fleet, who eventually floatied her to Sydney for restoration work which cost $18 million and took over 25 years to complete. Since 2001, James Craig has again been fully operational and is open to the public as a tourist experience.
Although much of the ship's structure had to be replaced, nearly all of her original frames and beams exist, which were reinforced with steel. In fact the faithful restoration was executed with such precision that in 2003, Sydney Heritage Fleet was presented the World Ship Trust Award for Authentic Restoration.
Today, the James Craig is available for charter, either for a cruise on the open sea under sail, under power in Sydney Harbour or tied up at the Wharf 7 dock.
She also hosts rope and rigging courses and educational sleepovers for an insight into life in the 19th Century.
But whichever way you meet her, she's bound to be a delight.

The details:
Sydney Heritage Fleet
Wharf 7, Pirrama Road, Pyrmont, Sydney.
Ph: (02) 9298 3888
http://www.shf.org.au/JCraig/JCraig.html