AT goes behind the scenes with four wise men and women of the hospitality industry. A concierge who's painting for an Archibald prize, another who's met the Pope, a washerwoman to the stars and a Swiss outback snake wrangler with a million-acre lobby. Enjoy your stay.
Who // "Brown Pete" Guggisberg, 43
What // Wilderness Park Manager
Where // El Questro, East Kimberley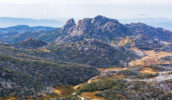 At El Questro, Swiss-born "Brown Pete" Guggisberg keeps an eye on all environmental issues, fights bushfires, checks park permits, cleans up rubbish, relocates snakes, builds and maintains walking trails and 4WD tracks, creates maps, fact sheets and information for guests and liaises with government departments. "For the past ten years I've walked, ridden, driven and flown to remote parts of the El Questro Wilderness Park and I'm still just scratching the surface," he says. "No two days are alike and I reckon with one million acres, my office is among the largest in the world."
What's with the name "Brown Pete"? On my first day at El Questro I met Black Pete, an Aboriginal grader driver, singer and Kimberley legend. He was tall and lanky and between his teeth he says, "What's your name?" I reply, "Pete." He says, "You can't be Pete. Already taken." Being a bit cheeky I answered, "Well, then call me White Pete." Black Pete answers in his booming voice, "You're not white enough to be White Pete. You're Brown Pete." And that name stuck ever since. I reckon it fits. The outdoors keeps me tanned all year round.
What's the most unusual question you've had from a guest? Had a lady from the US on our Chamberlain Gorge cruise. The Chamberlain River winds its way through this spectacular and ancient gorge with sheer cliffs and large paper bark trees. The lady goes, "S'cuse me, can you tell me who landscaped this area?" I said, "I believe a guy called God. But it was a while ago."
What about celebrity guests? I'd rather not comment since privacy is part of the attraction at El Questro. Here's one exception, though, that happened just before they got famous: Celebrities are generally surprisingly "normal" and out to have a good time like other guests.
A few years ago I had four guests on an El Questro Gorge walk. Two blokes, one very lovely Aussie girl and her European boyfriend. At the end of the walk we normally go for a swim in a beautiful but cold pool. The two gents didn't say anything and just sort of stood there. The Aussie girl hesitated to join her boyfriend in the water, so I made her jump in. A few days later I just about fell over backwards when I picked up a women's magazine, flicked through the pages and saw the attractive Aussie girl again. It was Princess Mary, Prince Frederic from Denmark and the two blokes from the tour must have been their bodyguards!
How would you describe the El Questro experience to an overseas visitor? It has one of the most diverse environments imaginable. From cracked salt flats, breathtaking gorges, pristine pools, waterfalls, rainforest pockets to the rolling spinifex country and tidal rivers, there's something for everybody. I believe we offer choices. You can do as much or as little as you want. Swim in thermal springs, ride a horse, fish, walk, take the helicopter for a scenic flight or read a book under a boab tree. Camp under the stars on the Pentecost River or stay in bungalows at the Township, tented cabins at Emma Gorge or the Homestead overlooking the Chamberlain River. I believe rather than just seeing El Questro and its stunning surrounds you'll soon start to feel El Questro and hopefully take some of it back home.
Any other random stories? I was checking Park Permits the other day when I noticed an older couple driving into El Questro Gorge without one. I approached them and asked whether they missed the large sign explaining the Permit System. They turned out to be Swiss and the lady, not aware that I speak their lingo, cheekily said to her husband, "Just tell the Ranger we didn't see any sign." In the broadest possible Swiss I replied to her husband, "And you tell your wife not to lie . . ." A park permit on El Questro: $15. The expression on their faces: Priceless.
Who // Shane Edwards, 42
What // Chief Concierge
Where // Sofitel Gold Coast Hotel, Broadbeach
Shane Edwards has worked in hotels from Manly Beach to Canada, was awarded the Louis Vuitton scholarship by international concierge society Les Clefs D'or (The Golden Keys), was taken on a tour of the White House last year and has met Bill Clinton and Pope John Paul II. In terms of career highlights, we have to wonder where he rates speaking with AT . . .
Ever been in a Russell-Crowe-chucking-a-phone situation? With over 20 years as a concierge, I've found that all celebs are human and just want things done the way they like. If anything it's usually the handlers that are the difficult ones. I've never incurred a Russell Crow-style incident – well, not on my shift anyway. When it comes to phone throwing, I guess he should have learnt to duck.
Which celebrities turned out to be great? Pamela Anderson and Matt Damon were both wonderful. Friendly, courteous and well-mannered pleasures to serve. Aussie icons such as Megan Gale, Tara Moss and most recently Benji Maddern from Good Charlotte – all very special.
The trashing of rooms. Does that happen at your hotel? Yes, on the rare occasion celebs have got a bit over excited but generally everyone treats our properties like their second home. The biggest disappointment is when the next guest may be inconvenienced.
Most unusual guest request? Goats milk at 1am for a Middle-Eastern guest, college basketball for an American guest (thank goodness for pod casts), black roses. The list is long but those three stand out.
Who have you helped that made you feel you'd done something truly special? From time to time there are guests that have special needs. I've been in the position when one guest returns after the other has passed away. Of course it can be hard when they've done everything together and then I see them in restaurant at breakfast time and they're alone . . . that really pulls on your heart strings. Often they're very thankful for my special care during their stay. That's very satisfying and many keep returning because they feel – rightly – like they're important to us.
Truth time. Is there an Australia-wide secret society of concierges who stay in touch and help each other out with the hook-ups? Not sure about a secret society but I'm a member of Les Clés D'or (The Golden Keys), which is an international concierge society with around 3700 members in 38 countries. The ideal of the society is one of professionalism. Our motto is service through friendship. With that many members in that many countries, we have a large number of contact willing to provide support and help out with special guests' needs.
What's with the Ferraris out front of hotels? Do they get automatic free parking or something? If they have a Ferrari they can usually afford the Valet ticket and more! Here's a thought: perhaps car manufactures should ask us about the good and not so good designs in cars. As concierges we get lots of experience in test-driving. Now that would make a good TV show.
Since you're in the industry, what sort of guest are you when you travel? Super-critical? No, I'm not super-critical but I think that anyone who works in the hotel industry tends to check out other properties. It's automatic. I have to admit I do like to check out the concierge desk.
The most amazing thing you've caught a guest trying to steal? Like Colonel Klink said "I know nothing!" 
Are we supposed to tip housekeeping separately or what? In Australia tipping isn't considered the norm, so it's really up to a guest to decide if a staff member has done something special.
The best tip you've ever received? It sounds corny, but collecting a guest's bags on departure, if they say they've had the best holiday ever, wearing the biggest smile on their face – let's face it, that's why we're all in this business. To create special moments for other people.
Who // Urszula Jurczyk
What // Valet Attendant
Where // Grand Hyatt Melbourne
Urszula was born in Poland and worked in an enzyme factory before answering an ad for the then-Hyatt on Collins. She got up at 5am, took a cab from the outer Melbourne suburb of Thomastown and joined the two-hour queue for an interview. She began in the hotel's laundry on August 18, 1986, pausing only to fly to Hawaii 15 years ago when she won Employee of the Year. She lives in Sandown Park, has a son of 42, never leaves the house without a bottle of Chanel No 5 in her handbag and mostly takes the train to work. But sometimes the Night Rider bus.
In your behind-the-scenes role, who's the most famous person you've met? Well, I haven't actually met anyone famous. But I have pressed Audrey Hepburn, Frank Sinatra, Michael Jackson and John Farnham's clothes and costumes.
What are the most satisfying things about your role with the Grand Hyatt Melbourne? I really liked being able to experience staying in the hotel and seeing what it's like to be a guest. And I like my job very, very much. I am very, very fussy when it comes to washing and pressing and I like to see everything is cleaned and pressed perfectly. When we first opened over 20 years ago everything was manual and I was responsible for 120 to 140 rooms a day!
What's the most expensive thing you've ever seen ruined in the laundry? When we switched from a manual machine press to an automatic one I changed a guest's shirt from brown to green. When I apologised, he did not mind at all. He said he liked it that way. A long time ago I also accidentally broke off the sleeves of my general manager's favourite Hawaiian shirt. It was a new machine and obviously very powerful. But I fixed it for him and everything was all right.
If you could have any other job in the hotel, what would it be and why? I'm no going nowhere! I'm quite happy in the laundry.
Have you ever received an unusually large tip? I don't like talking about money, but once my manager delivered an item of clothing to a guest and the guest tipped my manager. Then my manager passed the gratuity on to me!
What's the one thing guests do over and over that you wish they wouldn't? I wish they would remember to take their cufflinks out of their shirts.
Who // Josh Pearce, 27
What // Concierge
Where // Stamford Grand Hotel, Glenelg SA
Josh Pearce was born in Adelaide . . . and still lives there. Not just the excellent and friendly concierge at Glenelg's Stamford Grand Hotel, he's also an accomplished artist, currently working on a portrait of Sydney Theatre Company actor Amber McMahon as an entry for the 2008 Archibald Prize. So if you're checked in at the Stamford Grand by a young guy with paint all over his fingers, now you know why.
If Law and Order is anything to go by, concierges spend all their time helping detectives with leads on crimes. Does this actually happen? Our security department is on the ball, so it's usually them that helps the police out. It's pretty relaxed around here, though – you may have to wait a while for CSI Glenelg to hit the screen. I think there's a chocolate thief in our staffroom, though, and if the cops need some help with their inquiries I will certainly talk.
Ever been in a Russell-Crowe-chucking-a-phone situation? From my experience, and from what I hear, most of the celebs are great – even Kyle Sandilands had a bit of a chat. Russell would be more than welcome and although our phones all work, we might be able to arrange a special something? One of our duty managers also said Jennifer Hawkins, Pink and Pearl Jam were fantastic. I didn't get to meet the PM but I'm sure he'd have been the same. The Sri Lankan cricket team was just here and were very friendly – Murali never stops smiling! West Coast Eagle Ben Cousins was nice and slipped my colleague Matt a $20.
The trashing of rooms. Does that happen at your hotel? It hasn't happened here, but the best one I've heard is The Who's drummer Keith Moon who nailed all the hotel furniture to the ceiling.
Most unusual guest request? A high-flying American businessman asked me to find him a working mans pub with a dartboard. He said he loves the mix of sharp objects and alcohol. When he came back he said he had a great time meeting the locals, who all loved him because he was a great shot and shouted everyone drinks.
Who have you helped – even in an apparently small way – that made you feel you'd done something truly special and rewarding? We always try to help people the best we can and go the extra mile. It was great recently when a man from New Zealand who gets around in an electric mobility scooter wrote a letter thanking us for looking after him and his wife so well during their stay.
If you could have any other job in your hotel, which would it be? I've worked in four departments already and I reckon if you have good people around you it makes any job enjoyable.
Truth time. Is there an Australia-wide secret society of concierges who stay in touch and help each other out with the hook-ups? There is a definite brotherhood – we help each other where we can. Our guys recently won an inter-concierge golf tournament, so perhaps we could arrange a trade-off with all the porters of Adelaide. Some special event tickets for some golf lessons, guys?
What's with the Ferraris out front of hotels?Do they get automatic free parking or something? You know about the free parking? Were you ever a concierge? When I started we had a Jaguar convention in the hotel. I'm not a big car man myself but there was definitely a squabble among the guys and my colleague had no hesitation in pulling rank to park this $400,000 jag.
Since you're in the industry, what sort of guest are you when you travel? Super-critical? Working in customer service it's great to be looked after when you go away – and you do appreciate good service when you get it.
The most amazing thing you've caught a guest trying to steal? I haven't noticed anything extreme. We have a self-playing piano in our foyer that's very popular with all ages. I'm sure some people would sneak it out if they could.
Are we supposed to tip housekeeping separately or what? Sure, why not? They work hard – as long as it doesn't dry up for us!
Best tip you've ever received? I've had the odd $20 handshake, which is greatly appreciated. But regardless, we hope our customers have a great experience of the hotel and their stay in Adelaide.
*For more info on Josh Pearce and to see more of his artwork, check out www.greenhillgalleriesadelaide.com.au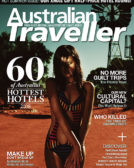 Enjoy this article?
You can find it in Issue 18 along with
loads of other great stories and tips.