Painter Allan Wolf-Tasker steps from one inspiration to another, but for his latest series, he has been holed up in his studio at Lake House, Daylesford. Here, he tells how life becomes art.
It's a great little space that I work in. It's in a gully right at the Lake House. There's this little creek that runs past the door and there are masses of birds, and yabbies in the creek. It's pretty romantic, actually. Far too good for me.
I don't have a lot to do with the running of Lake House. That's my wife's (chef Alla Wolf-Tasker) bag. We started off as a destination restaurant before we had any rooms and the goal was always that I would support her until the restaurant was up and running, then I'd go and do my own thing again.
We decided you can't have too many chiefs in a place, and one is quite enough.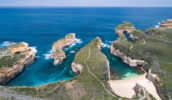 It's a bit like Sydney Harbour Bridge here. There's always someone working on something. I walk in pretty early and say good morning to the staff on-site and cheer them up.
Then I'll go and talk to one of the tradesmen I have on the site; carpenters or painters. That's part of my life here, but the studio just functions seven days a week.
The first thing I do in the morning is look at the mess I've made the night before. I work on several paintings at a time, so I'll go in and see what I've done in the previous 24 hours.
I'll do pretty ordinary work in the studio while my head is still getting back into gear; there will be canvases to stretch or something to mix, a painting to glaze.
As the creative juices start to come, I'll look at the paintings and think: well, this is what I need to do to that one, or that should go back in the rack for a while.
You don't finish paintings that you don't like. You don't get to that stage. If they're not going the way you want them to, they either go straight to the tip in shreds or you get out the roller and re-coat them. If I can't see any future in what I'm working on, I'll draw over it and make use of the painting that's already there.
You tend not to waste your efforts. You just change direction. The process is all about making a painting. It's about creating something and even though they're paintings of the landscape, the landscape is just an inspiration.
I'll come in from the great outdoors with a little book of sketches and notes and I'll start scribbling on a canvas. From that point on it stops being about the landscape. It's not a painting of what I've seen, what I've seen is the inspiration and then I create a painting out of that.
I'm not a Hans Heysen or an Albert Namatjira. I don't paint an image of what I'm looking at. I'm more of a Fred Williams sort of person. If I was painting portraits for instance, the portrait wouldn't end up looking anything like the person.
I think everyone probably operates differently. But my process is to transfer my tiny sketches onto a canvas. In doing that, you're already losing something of the sketch. I do those drawings onto the canvas in some really dramatic colour, so you're totally switched away from your original inspiration. It doesn't go away, but you've already moved into the business of making a painting.
I couldn't do German expressionism, I couldn't get that depressed! There's so much good stuff going on here. There's no dental surgery; there's nothing that's going to hurt you.
The paintings are like that, too. It's feel-good stuff and it suits the customers. They're here for a good time and when they walk through the studio it's a continuation of that experience. It's more bright colours and optimism. If I'm achieving that, it's a major success for me.
I like to work in extremes. This is the place for all seasons. They're really specific here, but it doesn't affect my paintings because I like the extremes of light. I'll go drawing in the mornings or the afternoons, I'll never go out in the middle of the day when the light is hard. In those extremes of light you see all different things.
I take lots of liberties with my palette. Those colours just don't exist in reality. But you get the sense and that's exactly what it's about. What you're trying to do is influence the spectator.
If I was to paint the bush as it is, it'd be pretty dull to look at. It's not until you look intensely that you find all these other colours. In the trunk of a gum tree, for instance, you'll find everything from purples to creams.
I don't want the customer to be in any doubt about the optimism of it all. I like painting all those high colour things and exaggerating them; really illuminating the work. The people who come to the hotel are the same people I'm painting for and they don't want to be threatened, they want to be lifted.
There's room for art that makes you think more deeply. But mine is about making you feel good, making you appreciate the landscape, making you look more intensely and maybe think twice about what you're looking at.
If I wasn't a painter, I'd still do something creative. I'd still be trying to say something about the world, to make some sort of a record. I'd have to do something that was going to hang around for a while – like leaving your mark. I'd hate to be somebody who just had a job and when you walked away, no one knew what you'd been doing.
I'm attracted to people with the same wish in life. I'm surrounded by people who want to be something or somebody. I think it's really important and you live a lot longer as a result.
There'll be no time that I put down the tools. I'll be working until I can't move.
I think I've done the Daylesford landscape. After this series of paintings, I'll go and paint still-life or portraiture or maybe do sculpture. Otherwise you start doing things to a formula. You lose that initial explosive impact in your work. You stop impressing yourself. If I can't impress myself, it's a bit hum-drum.
Catch Allan's exhibition Waterways at Daylesford from 8-18 November in Melbourne. Visit lakehouse.com.au or allanwolftasker.com.au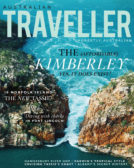 Enjoy this article?
You can find it in Issue 71 along with
loads of other great stories and tips.