A five-minute Arrival Gate interview with footballer Archie Thompson
Arrival Gate Five Minute Q&A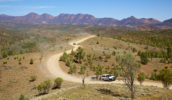 WHO // Archie Thompson
WHAT // Top Australian striker who scored five goals in Melbourne Victory's 6-0 defeat of Adelaide United in the 2007 A-League Grand Final. Also holds the world record for most goals scored in an international (he scored 13 of 31 goals against American Samoa in 2001).
WHERE // Born in New Zealand, but hails from the Albury-Wodonga region.
AUSSIE DESTINATION ALL AUSTRALIANS MUST SEE? Bondi Beach. It's an Aussie icon, one of the best beaches in the world. Probably the best example of what Australia is all about.
FAVOURITE CHILDHOOD HOLIDAY MEMORY?
Going camping in Mt Kosciusko. Amazing landscape, we had a great time.
MOST UNDERRATED TOWN IN AUSTRALIA?
Albury-Wodonga of course!
PLACE YOU'RE NOT HURRYING BACK TO? Tamworth. Can you believe I'd just come back from the World Cup, and I got asked for ID at their Leagues Club? They had no idea.
WHEN IN TOWN, YOU MAKE A POINT OF?
When I'm in Melbourne I always eat at Itty Bitty on Brunswick Street. For a few drinks, I can't go past The Local on Bay Street.
BEST TRAVEL TIP YOU EVER HEARD? Bring a spare pair of undies.
WORST FLIGHT? Albury-Wodonga to Melbourne. It was stormy as and very scary.
WORST PERSON EVER SEATED NEXT TO? That would have to be either the Coach or one of our Board Members. (I hope they're not reading this!)
PERSON YOU WISH YOU COULD SIT NEXT TO?
[Melbourne Victory midfielder] Kristian Sarkies – because he's my boy. He makes me laugh.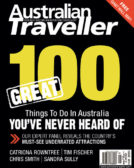 Enjoy this article?
You can find it in Issue 14 along with
loads of other great stories and tips.