Setting up office on a white sandy beach might seem like a dream, but is the flexible workplace encroaching on our valuable downtime?
Thank you for your email.
I am currently on annual leave, returning Monday 25 September. But I'll probably attend to your query anyway so you may as well just ignore this out of office notice.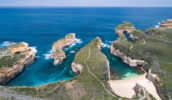 You've probably never received an automated reply like this one, but chances are you should have. Australians, after all, are working more than ever, and our annual leave is suffering.
A 2016 report from the Centre for Future Work at The Australia Institute found Australian workers have about 48 million unused holiday days, or close to 10 million holiday weeks. The collective value of that unused leave is more than $11 billion.
Meanwhile, much of the annual leave that is being cashed in by the Australian workforce may not be providing the necessary respite. A survey conducted in 2014 by TripAdvisor found 73 per cent of Australians work while on holiday, more than double the global average (33 per cent). Today's digital landscape makes such dedication – whether reluctant or self-generated – possible. Most of us can be reached around-the-clock and many of us are permanently connected to the workplace via various technologies.
Professor Michael Leiter, organisational psychologist at Deakin University, explains that this environment has blurred the lines between work and play. "The boundary between what is work and what is not work is particularly loose because the kind of work people do now is not particularly tied to the place," he says. "A lot of it is the kind of thing you can do anywhere. Managing that boundary is now sort of an occupational skill you have to have."
Yet it's a skill many of us are yet to master. Often driven by employer pressure, personal ambition or economic fears, Australian employees are giving an increasing amount of their time away for free. This habit can threaten the kind of genuine mental break that allows us to revive and de-stress. It can also hinder other holiday benefits such as family bonding and improved physical health and creativity.
Economist Dr Jim Stanford, Director of the Centre for Future Work, explains: "There's a growing willingness by people to take the phone, take the laptop, check their email, make sure they're available to their workplace even if they are on leave," he says. "That is a slippery slope, frankly. On the one hand you can say you just want to be there in case of emergency, but it's very easy for that to morph into taking a couple of calls or answering a couple of emails every day and lo and behold the mental space you're trying to get when you're on leave starts to disappear. The value of the holiday can be significantly undermined."
The solution is not always as simple as switching off. For those who work while on leave under pressure from management, job security can feel vulnerable. In such cases, there are government and union protections that could be helpful.
More often, though, the pressure is internal and many people face anxiety about what is going on in the office while they're away. But, as Professor Leiter explains, everything's probably travelling just fine. Speaking from Dublin (where he is attending a conference and not speaking to a journalist while on holiday), he relays the story of his morning scroll through the work inbox. Many emails had been sent during the Australian work day and, since Prof Leiter was busily sleeping at the time, most emails were attended to without his input. "Everybody had already done everything," he says gratefully. "Yes, there are people in the world who are so critically important that, wherever they are in the world, you have always got to be able to reach out and grab them, but that's, like, seven people."
Of course, uncertain hours can also be a consequence of workplace flexibility, a modern concept that many of us have wilfully adopted and value. It's a matter of taking the good with the bad.
But for those striving for a work-free break, but struggling, Professor Leiter suggests setting boundaries around holiday work time and recruiting a travel companion to help you abide by your own rule. "Having people completely cold turkey off their connection is a big step," he says.
"Short of that you can (set aside) a 15-minute or 20-minute session once a day, then you can look at it, then you can respond to what's critical."
As well as calling for regulatory improvements, Dr Stanford believes a more strict personal approach is key. "I think people should reject the idea that they are at the beck and call of their employers whenever it's needed," he says. "I think people [need] to have a stronger sense  that we work to live, we don't live to work."
So, like Professor Leiter recommends, perhaps it's time to recruit help. To enlist a trusty friend; to reinstate the power that was once so flawlessly wielded by the humble out of office reply.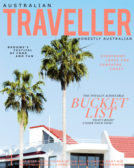 Enjoy this article?
You can find it in Issue 76 along with
loads of other great stories and tips.