Arrival Gate Five Minute Q&A



Max Davidson
WHO: Max Davidson
WHAT: Indigenous Tour Operator. You want to go to Arnhem Land, you talk to him.
WHERE: Arnhemland Safaris at Mount Borradaile in northwest Arnhem Land.
WHY: He's been running safari camps in the NT for the past 31 years, the last 21 of which were at the express invitation of Traditional Owners in Arnhem Land.
Australian experience everyone MUST have? Mount Borradaile in Arnhem Land, to learn firsthand about Aboriginal culture, art, birds and wilderness in a pristine area.
Most underrated place in OZ? The Top End.
Place you're not hurrying back to? I wouldn't hurry back to Bali.
Best travel tip you ever heard? Get out and see Australia, in particular the Top End as it leaves the rest of the world far behind in all respects.
Items of clothing or equipment that are truly indispensable in the bush? Hat, sturdy boots and a water bottle. Never leave home without them.
Love or hate flying? Love it. It's the best and quickest way to travel from point to point.
Worse flight? I survived, so they're all good.
The most fascinating sight you've seen through your work? Finding a major art site in 1988, later recognised by Dr Josephine Flood as some of the most stunning rock paintings in the world.
Most satisfying experience of your career? Guiding people through the Mount Borradaile area and introducing them to Aboriginal culture, bush foods, medicine, art, birds and geology of the area. Spending 31 years in tourism travelling all around the world on promotion, as well as being actively involved in running safari camps, which fulfil my love of the land and the people.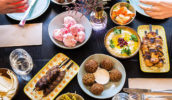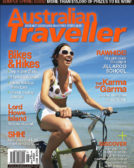 Enjoy this article?
You can find it in Issue 17 along with
loads of other great stories and tips.