Radio personality Bianca Dye on her favourite Australian travel
WHO: BIANCA DYE
WHAT: Radio personality for ten years, drive time presenter with Nova 969 Sydney, TV presenter, writer, MC, public speaker.
WHERE: Sydney, with her two dogs and her man, Alex.
WHY: Because she's a walking, talking anecdote for nearly every inch of Australia.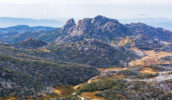 Experience every Australian must have?
Scuba diving on the Great Barrier Reef. This is a memory that will stay with me until I die: I'd stopped to admire some amazing coral, the rest of the group swam ahead, and that's when I felt this huge nudge. I thought "Oh my god, a shark! That's it: I'm gone." I turned around in slow-mo, only to find a huge, dopey grin staring back at me. It was a female dugong (sea cow) and she was divine! She continued to swim next to me for about 20min, then disappeared. The reef is an incredible part of the world and a holiday including a snorkel or a dive is a must. It's magic under the waves and I hope we manage to keep that fine eco-balance so that our grandchildren can swim in its waters too.
Favourite Great Australian Drive?
The Great Ocean Road. My boyfriend had always wanted to travel the GOR and it held such wonderful childhood memories for me so I jumped at the chance to suck in that cool ocean air and be amazed by the beach views that take your breath away at every corner. We stayed in a gorgeous little place called The Cherry Tree Cottages, like a mini farm stay, with geese and the most tranquil setting. Pet-friendly, too. Our dogs travelled with us, so it was one big, happy family.
Favourite bolthole?
The Tower Lodge, Hunter Valley, NSW. This place is like heaven. It has a winery as part of the estate and the famous Roberts Restaurant is just 100m away. The perfect luxury getaway for couples who don't want to do much.
Place you're not hurrying back to?
Darwin. All I remember is being eaten alive by bull ants as a child. My family thought it was funny to watch me jump around screaming trying to dodge them, biting my feet thru my sandals, so I'm scarred forever now. True.
When in town, you make a point of?
No trip to Melbourne is complete without a visit to Pellegrini's on Bourke St. The place hasn't changed at all in 30 years. The menu has had the same 12 items and the same recipes since the place started. The best minestrone and spag bol in the country, I'm sure of it.
You always leave behind in a hotel room?
I always seem to leave a little bit of dignity behind: knickers under the bed, favourite bodywash in the shower or my book on the sideboard. But I make up for it by taking every tea bag in sight.
Favourite Australian hotel?
Vibe and Medina hotels. Easy, funky, inexpensive, especially the one on Fitzroy St in Melbourne. A walk away from everything groovy St Kilda has to offer.
Can't leave home without?
My common sense. I go a bit nutty when I travel. I'm like a kid and I tend to act like a tool sometimes – do things I wouldn't normally do. I'm also a bandit for leaving my phone charger at home. I now own about 46 of them.
Takeoff or landing?
I love landing. The best part is when the engines go really loud as the plane's coming to a stop. That sound relaxes me: it means we made it down safe.
Worst flight?
From Las Vegas back to Melbourne when I was a kid – the wheels wouldn't come down so we had to do an emergency takeoff just as we were about to land. I didn't realise the full extent of the danger we were in until years later when Dad explained it to me.
Person you wish you could sit next to?
The pilot. Now that would be a blast. Failing that, Gretel Killeen is an intelligent woman I wouldn't mind having a yarn to on a plane one day.
Leave accrued?
None. In fact I probably owe leave. I never understand these people that have five or 12 weeks or whatever owing to them. Man, I'd be gone.