An Arrival Gate five-minute Q&A with Greens Senator Bob Brown Arrival Gate
5-Minute Q&A with . . .
Who: Greens Senator Bob Brown
What: Did three weeks in Hobart's Risdon jail in '83 after protesting (successfully, it turned out) against the Franklin Dam. Now doing ten years in Canberra's Parliament House.
Where: Randalls Bay, southern Tas, looking out over the ocean towards Antarctica.
The one Australian experience every Australian MUST have?
Visiting Tasmania.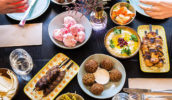 Favourite bolt hole?
At my old farmhouse by the Liffey river (crystal clear, unlike its Dublin namesake) beneath Tasmania's snowy Great Western Tiers – with a Boag's, of course. No electricity, TV or refrigerator.
Place you're not hurrying back to?
Uluru – near this iconic rock live First Australians in squalid neglect. We should hurry back to our old values of respect for older cultures and ensure these wonderful people the dignity, respect and good health they deserve.
When in Tassie, you make a point of eating at?
Salamanca Place's Retro Cafe near Constitution Dock. Fantastic coffee and an endless soiree.
Worst flight?
King Island to Burnie. A policeman, looking at the storm, refused to fly. The airport attendant mocked him with chicken noises. En route, lightning struck. After arrival, houses were un-roofed, trees down everywhere. The pilots said they should never have taken off.
Where have you just been and why?
Adelaide. Elections. What a delightful city, surrounded by greenery.
Aisle or window seat?
Window. There's no in-flight program which can match the planet, which gives us all we have, moving below us.