Australian Traveller's interview with Bowie Wong
Arrival Gate Five Minute Q&A
WHO: Bowie Wong
WHAT: Creator of the ultra-successful Bowie fashion label, clothing and costume designer for Delta Goodrem, George Michael, Paul McCartney and Madonna to name but a few.
WHERE: Sydney
WHY: Put it this way: he was born in Hong Kong, grew up in Japan, finished university in Canada, worked in Europe and now lives in Australia. He's seen his fair share of travels.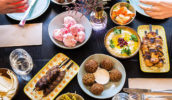 The Australian experience every Australian MUST have? I love St George Open Air Cinema in Sydney harbour, part of the Sydney festival every summer. We arrive after work, order dinner at the fantastic restaurant setup onsite, a few drinks with friends and as the sun sets over the Harbour Bridge a huge screen rises up out of the water. This is Sydney at it's best and confirms for me every year my decision to call Australia my home.
Next Australian destination? Kim's Beach Hideaway, Toowoon Bay, NSW. We're going there in December with a group of friends to unwind and relax. Kim's is a very luxurious resort with a very casual approach. A gourmet's delight and just three steps from bungalow to beach.
Favourite Aussie summer holiday spot? Watego's beach and lighthouse at Byron Bay. Understated with incredible natural beauty. We rent a small apartment and go there in February every year. The water is warm, you even can swim nude at night (don't tell anyone) and there are less people than January!
Favourite childhood holiday memories? Hokkaido, Japan. I first travelled there with my brother Edmund at 11. We stayed in a fishing village and were up before sunrise everyday catching scallops. This probably explains my love of all things nature. I remember the smell of the water at that time of day – it was magic!
Most underrated town in Australia? Townsville. The water park on the Strand at the beachfront is the best I've ever seen. It makes summer bearable and children love it! Townsville is also the gateway to the Barrier Reef, just as long as we don't destroy it through global warming.
Place you're not hurrying back to? North Korea.
When in town, you make a point of eating at/drinking at/seeing? This might sound a bit pretentious, but here we go: Dinner at Glass in the Hilton, drink at Icebergs in Bondi and being seen at Establishment.
Best travel tip you ever heard? To wear a support belt on international flights. This supports my back and I feel better when I arrive.
What do you always leave behind in a hotel room? Some of my hair!
You're away four nights: how many pairs of smalls? Let me do the math. Four.
Favourite piece of luggage? My new Rimowa suitcase. It cost a bomb but is worth every cent because it's light, strong and smooth as a pairs of snow skis. I also save on my excess luggage bill!
One thing you can't leave home without? My swimming goggles and an extra pair of contact lenses. I'm soooo blind.
Most common thing left at home? My swimming goggles and an extra pair of contact lenses.
Mini bar: raid, replace or don't touch? Raid
Love or hate flying? Love it! I catch up on movies and I have the gift of being able to sleep anywhere, anytime.
Favourite moment: takeoff or landing? Takeoff. No-one can reach me by phone for however number of hours.
Worst flight? I flew to London with a crying baby beside me. We were in transit for one hour and they managed to find me in there as well!
Worst person ever seated next to? I'm sure they look for me on every flight. Or am I being paranoid? I get them every time but I seem to be particularly attracted to crying babies and them to me.
Person you wish you could sit next to? The founder of Google. I don't know his name. (THEIR names, actually. Larry Page and Sergey Brin. – Ed) Also, David Suzuki.
Airline food: love it or hate it? Loath it! Welcome to your new destination, here's another greasy omelette.
Where are you about to go and why? We're off to Bali for a quick break on New Year's Eve where we always stay at Puri Wulandari in Ubud. If there is a better resort in the world I want to go there.