An Arrival Gate five-minute Q&A with Dr Katrina Warren Arrival Gate
5-Minute Q&A with . . .
Who: Dr Katrina Warren (& Toby)
What: Worked as a TV vet for 12 years on Harry's Practice and Totally Wild. About to launch www.drkatrina.com, your No.1 website for pet-friendly lodgings around the country and all things pet-related.
Where: Between Sydney and Melbourne, with clothes and belongings in both.
Why: She's caught a plane at least once a week for the past year, she's travelled Australia for work, and has had many overseas adventures.
The Australian experience every Australian MUST have?
Flying into Sydney on a clear spring morning – spectacular coastline and views.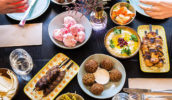 Favourite childhood holiday memories?
Horse riding camps in northern NSW. I was absolutely obsessed with horses and this was a week of horsey bliss.
Always leave behind in a hotel room?
My phone charger. So frustrating!
Last Aussie Destination and why?
Last Christmas my fiancé and I explored the Great Ocean Road. We had a great road trip with my dog, Toby. There's heaps of dog-friendly lodgings in the area, as well as dog-friendly beaches and walks. I always try to choose getaways where Toby is welcome as I consider him a part of the family.
Place you're not hurrying back to?
Lancelin in WA. It's a world-famous windsurfing town and (surprisingly) it's unbelievably windy. My eyes were running from the moment I arrived. I also heard a rumour that great white sharks frequent the water, which is enough to keep me away.
When in town, you make a point of?
In Sydney, I always head to Swell at Bronte Beach. I crave the salt and pepper calamari there. In Melbourne, I head to Lina's Wine Bar in Albert Park – cosy and casual but great wine and snacks.
Favourite Australian Hotel?
Medusa in Darlinghurst, Sydney. It's a boutique hotel that welcomes dogs.
Malcolm Fraser moment? [ie, locked out of hotel room without pants.]
I managed to get myself locked out of the Medusa at 4am. I was in a laneway in my PJs and couldn't get back in. All because Toby needed an urgent toilet moment.
Worst person ever seated next to on a flight?
Tough one. There are so many to choose from. Probably the man reading porn mags for most of my 14hr flight from LA. Closely followed by the man who fell asleep leaning over my seat and blowing on my neck.
Person you wish you could sit next to?
Bono from U2. I think he'd be fun and entertaining and not take up too much space in the process.
Where are you about to go and why?
I'm doing a road trip with Toby on the north coast of NSW, exploring great doggy destinations.
You're away for four nights: How many pairs of smalls?
Way too many. I'd rather be over-prepared than under.
Mini bar: raid, replace or don't touch?
Always raid, with intention to replace. But never replace.
One thing you can't leave home without?
My dog! I hate seeing his sad face at the door when I say goodbye. I take him whenever possible and have talked him into many a hotel. He's probably one of the best-travelled dogs in Australia.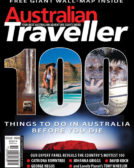 Enjoy this article?
You can find it in Issue 8 along with
loads of other great stories and tips.