A five-minute Arrival Gate interview with Channel Seven personality Mark Beretta Arrival Gate
5-Minute Q&A with . . .
Who: Mark Beretta
What: Sports commentator, and sports presenter for Channel Seven's Sunrise
Where: Sydney's northern suburbs
Why: Because he travels a huge amount and we respect anyone who is a ten-time national water skiing champion.
What's the one Australian experience every Australian must have?
Seeing Sydney Harbour. The first time I saw the Harbour Bridge and Opera House they blew me away – they still do. I can sit and look at them, and watch the movement of the Harbour for hours. The best way to see both, and take in the Harbour, is with a ride on the Manly Ferry – I send all our visitors down to do that.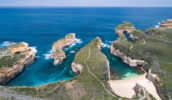 Last Australian destination?
Kawana Waters on the Sunshine Coast. Just a few minutes south of Mooloolaba, it's close enough to take advantage of all the restaurants and attractions, but that little bit away so that it's peaceful at night. The beaches and surf clubs are fantastic, with great little watering holes for the end of a long day of looking after the kids on the beach.
Favourite bolt hole?
Yarrawonga on the Murray. Having grown up water skiing on that mighty stretch of river, I always love getting back there. It's best on a scorching hot day, when you just spend your time skiing, in the boat, and jumping in and out of the river.
Favourite childhood holiday memories?
The Gold Coast every September school holidays. Dad would load us all up in the car for the 20hr drive from Geelong. Just getting there was an adventure and we saw some great country along the way. Once we hit Broadbeach, we'd hook up with the same families every year and spend all day every day at the beach. On the odd rainy day, we'd hit Seaworld or the Currumbin Bird Sanctuary. Love going back there.
Best travel tip you ever heard?
Sleeping tablets on overseas flights. It's the only time I use them, but it's the only way I can sleep on a plane, and it's amazing the difference a seven or eight hour sleep can make to your long-haul flight.
What do you always leave behind in a hotel room?
I like to mix it up. One week I'll leave my phone charger, another week a pair of socks under the bed, an umbrella in the wardrobe, etc.
Favourite Australian hotel?
Sofitel Melbourne. Best views of any hotel in the world. I'm even happier when I can get a room that overlooks the MCG, Melbourne Park and the Yarra River. It's a perfect location and the rooms and service are outstanding time after time.
Most common thing left at home?
Harry the dog. Can't take him all the time!
Hotel mini bar: raid, replace or don't touch?
Use only in emergencies. I treat myself to one drink when I first arrive.
Love or hate flying?
Love it. The romance, the adventure and the speed all lure me.
Person you wish you could sit next to?
Greg Norman on the left, David Boon on the right. We'd have the time of our lives . . . well, I would for sure!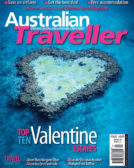 Enjoy this article?
You can find it in Issue 7 along with
loads of other great stories and tips.