Arrival Gate Five Minute Q&A
Max Walker
WHO: Max Walker
WHAT: My life journey has been a constantly changing, meandering stream: from schoolboy to student of architecture, AFL footballer and Test cricketer, radio and TV presenter, writer and speaker.
WHERE: I live in one of the world's most liveable cities – Melbourne – and love it.
WHY: I left Tasmania for the mainland at 18 and since then I've not stopped chasing taxis, trains, planes and buses.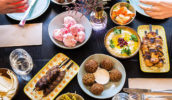 The Australian experience every Aussie MUST have? Before we're confined to pushing up daisies, every Australian should experience the outback. Red ochre sand, a sky as wide as the horizon and the spiritual sounds of silence. Very anchoring indeed.
Favourite childhood memory? Fishing for flathead on a scallop boat anchored in the sheltered bay behind Maria Island in Tas. In 7 or 8m of cold, clear water, we'd be excited to see three fish hook up simultaneously. While I yanked them onboard with a hand line, my Dad was physically sick over the rear of the boat. Great burley.  Indelible.
Most underrated town in OZ? Coober Pedy. A moonscape of possibilities above and below ground. Stay in an underground hotel carved out of rock and ride the rope to the bottom of a mineshaft, be mesmerised by the fire flame in the gemstones, then rough ride the corrugated route out of town, eagles floating overhead on thermal air currents.
Favourite bolthole? Beyond the lighthouse at Cape Schanck, across the inky blue horizon is Antarctica. Yes, Flinders is the end of the line – unprotected from the southern oceans. I love to stroll along the beach with my wife Kerry and daughters Alexandra and Isabella. Midwinter, the whitecaps offshore are angry, the sea spray buffeting our faces is exhilarating. I never tire of the sounds of nature – waves crashing, sea birds and strong gusting winds. For a writer, this is energy for the soul.
Favourite hotel? The Four Seasons in Sydney. I spent 30-plus weekends there every year for almost a decade. The corner view – Sydney Harbour Bridge and the Opera House – in late afternoon light is breathtaking. Their customer service is outstanding. Better than family. Nothing was ever too big a problem. I had lemon tea and fruit waiting on arrival! In-room meals world class. I even enjoyed a towelling robe with "Max Walker" embroidered on it, until I shared a room with my father, Big Max. He reckoned it was his. He also reckoned, "This had to be the best pub in Australia." I agreed.
Where have you just been and why? In the past fortnight I've been to Sydney, Fiji, Melbourne, Hobart, Melbourne again, Adelaide, Darwin, Alice Springs, Perth, Cosmos Mines (4hrs north of Kalgoorlie), Adelaide, Melbourne and Brisbane. This is a combination of speaking engagements and a publicity campaign for my new book, Caps, Hats and Helmets. Under every cap, hat and helmet are a million stories. I reckon since the book was penned longhand with a fountain pen on pads of paper used to print bibles, there may well be some divine intervention with my schedule.
Most common thing left at home? Shaver. The plastic disposable hotel freebies are instant gravel rash generators, especially when used with basic hand soap. But sometimes it's a desperate means to necessity. Ouch!
One thing you can't leave home without? My creativity notebook, to jot down thoughts, ideas, dialogue and sketches. I'd be lost without this grass-catcher of interest. And of course a felt pen or three.
Best travel tip? Eliminate everything you don't need, and "walk-on, walk-off." Use only a suit carrier and hand luggage. Over a year you'll save not hours but days of your precious time.
Person you wish you could sit next to on a plane? My wife and kids. I spend way too much time chasing planes alone.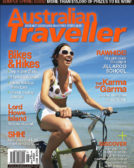 Enjoy this article?
You can find it in Issue 17 along with
loads of other great stories and tips.