Australian Traveller's 5 minute interview with Merrick Watts, NOVA FM radio star
WHO: Merrick Watts
WHAT: Comedian, NOVA FM radio star, TV personality
WHERE: Leichhardt, Sydney
WHY: In his bad old touring and stand-up days, Merrick and co-conspirator Tim "Rosso" Ross scoured the land doing gigs. He's seen his fair share of Australia, and he's bloody funny.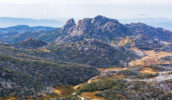 The Australian place every Australian must see? Kakadu. It's like going back in time a million years, and we never know how long we'll have these treasures. Short of that, Moe in Central Victoria. There's a beautiful coal-fired power plant nearby. Take a picnic and sit in the soot.
Favourite Australian summer destination? The beaches of South Australia.
Favourite bolt hole? I don't know what that is, but I'll say Guy Sebastian
Favourite childhood holiday memories? Spending time with my cousins in Broken Hill.
Most underrated town in australia? Adelaide. I'm tired of people who know nothing about the place writing it off. It's awesome and the people who live there should be more proud and less dismissive. There are places on Earth that would die to have half of what that city offers. Having said that, there are a fair few bogans who struggle to speak the Queens English.
Place you're not hurrying back to? Warrnambool. I hate that joint! Banned!
When in town, you make a point of eating at/drinking at/seeing? Star of Greece [seafood restaurant], Port Willunga, Victoria St, Richmond, Melbourne.
Best travel tip you ever heard? When overseas, carry $50 in your shoe, at least $50 in your pocket and at least $50 in your wallet. Nobody likes an angry mugger/ thief, and if they think they have "all" your money, the shoe cash will get you home!
Favourite Australian hotel? Prince of Wales, St Kilda. Great staff, cool hotel, not a rip-off, and great bars all over the joint.
You're away four nights. How many pairs of smalls? Five. Just in case there's an accident.
Favourite piece of luggage? My wife.
One thing you can't leave home without? My wife.
Most common thing left at home? My wife.
Malcolm fraser moment? Nearly being arrested in Vancouver on suspicion of drugs, and laughing at the customs officer because I thought it was so ridiculous, which of course only made him clarify his suspicions. Nearly ended up having a date with five members of the Ansell family!
Mini bar: raid, replace or don't touch? Tight arse, I go into someone else's room and drink theirs. Even if it means jumping a balcony!
Love or hate flying? Hate it generally, but enjoy flying to the States or Asia, but not London. Too far.
Favourite moment: takeoff or landing? Landing in a new city at night and waking up to see how it's changed and taken form!
Aisle or window? Window. I wee in a bag that I carry with me.
Worst flight? London.
Worst person ever seated next to? Rosso slapped me in the eye with a magazine en route to the US and it bled quite badly and left me with a scar and bruising. He was drinking. I forgive him now . . . No I don't.
Person you wish you could sit next to? Rosso. You never know what he's going to do next.
Airline food: love it or hate it? Don't mind it. I once had a soup at an airport in Indonesia that was bloody awesome, but by the time the plane landed I had the squirts.
Where have you just been and why? London and France for my honeymoon. Generally I hate the French, but the trip and the country were cool.
Where are you about to go and why? Vietnam. If there was only one o/s destination I could go to, that would be it. Their food and culture is amazing, and they're awesome people. I've only heard good things.