A five-minute Arrival Gate interview between Australian Traveller and foodie author Pete Evans.
Arrival Gate Five Minute Q&A

WHO // Pete Evans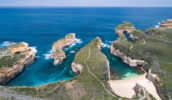 WHAT // Author of cookbook Fish, co-owner and exec chef of Sydney's Hugos group, host of Channel Nine's Fresh cooking show and host of the Lifestyle channel's Fish series.
WHERE // Bondi Beach
The experience every Australian MUST have?
Trout fishing in the snowy mountains. You get to see so much wildlife with not one tourist. We're talking wild brumbies, kangaroos, wallabies, snakes, wombats, echidnas, rare birdlife, possums . . . and to catch a fish, that's a bonus!
Favourite childhood travel memories?
Camping in Noosa as a youngster when the camping grounds were at the end of Hasting St, and fishing and catching mud crabs in the estuaries.
Most underrated town in Australia?
Darwin. I think that place is gold. It has something for everyone, from fishing, sightseeing, eating, drinking – you name it, it's up there. It's so wild.
Most embarrassing travel moment?
Asking the concierge at the Crown Casino to tie my tie for the Logies, as I've not yet mastered this skill.
Favourite Australian eatery?
I love Movida in Melbourne. Great atmosphere and amazing food.
Your easiest travelling dish to prepare?
I do a simple cherry tomato pasta, on the table in five minutes if using fresh pasta.
Any cooking tips to share?
Don't be scared, have fun and occasionally try something different.
What do you look for in a restaurant?
Friendly staff. Generally, if the staff aren't uptight on the floor the same will be true in the kitchen, which means they're cooking whilst they are happy, which reflects in the taste.