Arrival Gate Five Minute Q&A
Richard Tognetti
WHO: Richard Tognetti
WHAT: Artistic Director/lead violin of the Australian Chamber Orchestra.
WHERE: Sydney.
WHY: Because he travels for more than one-third of each year.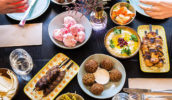 Favourite Bolt Hole? Sandon Point on the NSW Illawarra coast for surfing, or Luna Park with my four-year-old son Leonardo.
Favourite classic Australian drive? "Down south" from Perth to Yallingup in Western Australia. Through dreggy Australiana, beautiful bush and coast, then eventually to the most sensitive urban development of Yallingup.
Place in Australia that you're not hurrying back to? Ingham in Queensland. Drag racing down the main streets.
Best travel tip you've ever heard? Oft quoted in surf mags: when checking in surfboards, hold the ends so the weight is ostensibly lighter.
Favourite Australian hotel? Adelaide Medina. Quite grand and anonymous.
Favourite piece of luggage? My violin case.
One thing you can't leave home without? My violin.
Malcolm Fraser moment? [ie: locked out of hotel room without pants, had to go to front desk in underwear.] No, but I know a very important CEO who's had a similar moment without the fun before it. I think he was placing a room-service tray out his door – naked – then the door closed with him on the outside.
Mini bar: raid, replace or don't touch? Replace. People who do things to mini bar contents such as drinking and refilling the contents with false substances are a#@!holes.
Love or hate flying? Love long distance flying – no phones, read, think, get drunk and melancholic.
Favourite moment: takeoff or landing? Takeoff.
Aisle or window? Aisle for the toilet access.
Worst flight you've ever been on? Into Hobart many years ago: aborted landing due to wind and not enough fuel to get anywhere else, so we do a turnaround. People screaming as the jet's shaking and some people are speaking in tongues. Also, Madrid in June '06: aborted due to another plane on tarmac just in front of us. The Spaniard next to me turns around after the only announcement (in Spanish) and shrugs, saying, "Mucho traffico."
Airline food: love it or hate it? It depends, of course. I normally travel economy, but was lucky to travel one sector in first class and enjoyed Lufthansa's amazing cuisine.
Flight reading/listening? Non-stop. I can't sleep on planes and so normally dream awake of Grand Artistic Projects.
Where have you just been and why? To Brisbane. Before that, Europe, finishing in Ireland on a concert tour.
Worst person you've ever beeen seated next to? Once, I embarked on a flight to Canberra. The hostesses giggled, noting my seat placement. I asked them what was up. They replied: "Wait until you see your lucky draw." It was Pauline Hanson, seated right next to me. I swapped my seat with a verbose and curious colleague. At the end of the trip he said, "Yep, even dumber than you could imagine."
Person you wish you could sit next to? Courtney Love . . . yuk! Seriously, the future PM would be good. I'd try to entice him or her to open their mind to the power and necessity of culture and how it drives a country more than anything else.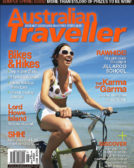 Enjoy this article?
You can find it in Issue 17 along with
loads of other great stories and tips.