A five-minute Q&A with Channel Nine News presenter Sharlyn Sarac. Arrival Gate
5-Minute Q&A with . . .
Who: Sharlyn Sarac
What: Channel Nine news presenter
Where: Perth, WA
Why: She's curious about her country, she has a top-notch sense of humour, and her capable air and innate sense of style make her an Australian traveller to be emulated.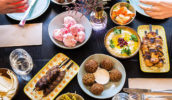 What's the one Australian place every Australian must see?
Everyone should see and experience the Outback at least once.
What's the most underrated town in the country?
Perth! I know it's a city, but it has a real country-town feel, with great weather, endless beaches and spectacular sunsets.
When you're in a particular town, what do you make a point of doing?
I can't go to Sydney without devouring Krispy Kreme donuts. Seriously, there should be a store in every city.
How much leave have you accrued?
I'm pushing five weeks at the moment.
What's the best travel tip you've got for our readers?
Do everything you can to avoid Bali belly. It's agonising and it can really put the hand brakes on your holiday.
Holiday planner: You do it? Or your partner? Or an agent?
Always someone else. I'm terrible at making a decision and I always want to see and do everything, so I rely on the advice of others.
What do you always leave behind in a hotel room?
I once left a diamond ring in a remote hotel in the Pilbara in northwest WA. It was a gift for my 21st. I still can't believe I did that.
Favourite Australian hotel?
Bunker Bay Resort near Dunsborough, in WA's magnificent southwest. They've somehow managed to create a luxurious hideaway without destroying the stunning natural surrounds.
Your favourite piece of luggage?
Anything with wheels. How did we ever travel without them?
One thing you can't leave home without?
My trusty mobile phone charger.
Most common thing left at home?
My trusty mobile phone charger.
Hotel mini bar: raid, replace or don't touch?
I've never replaced. I figure if I'm too weak to resist, then I deserve to pay six dollars for a Mars Bar.
Favourite moment: takeoff or landing?
Takeoffs are brilliant. Landings are terrifying.
Aisle or window?
Always the window. That way you've got something to look at and something to lean on.
Worst flight?
Any midnight horror flight from Perth to the eastern states.
Airline food: love it or hate it?
It's not particularly great to eat, but the distraction is invaluable.
Flight reading of choice?
Trashy magazines are a lifesaver. I'm never comfortable enough to tackle a novel.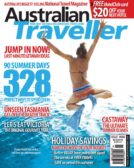 Enjoy this article?
You can find it in Issue 6 along with
loads of other great stories and tips.