Sharyn Ghidella reveals her favourite Australian holiday destinations
Arrival Gate
5-Minute Q&A with . . .
WHO: Sharyn Ghidella
WHAT: A journo with nearly 20 years experience, Sharyn has worked in regional and metro TV as an on-the-road reporter, presenter and producer. Formerly with National Nine News, she now presents the news on the Today show, as well as the morning edition of Qantas in-flight news.
WHERE: Sydney's North Shore
WHY: As presenter of the Qantas in-flight news, she's been everywhere. Well, a "taped" version has. (If only she could earn frequent flyer points for that.)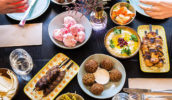 The Australian place every Australian MUST see?
The Great Barrier Reef. As a North Queensland girl I grew up enjoying the magic of this underwater playground. It's something everyone should experience in their lifetime. To see the colour and the marine life up close and personal is such a thrill. Well worth the price of the airfare.
Next stop?
Tasmania. It's the only state I've yet to set foot in and I simply must rectify that.
Last stop?
The Barossa Valley. And if this really were to be your last stop, you may as well go out with a good drop of red in your belly.
Favourite Bolthole?
Babinda in Far North Queensland. This is home and a haven. And you can't beat it for beautiful scenery and fabulous people.
Favourite childhood holiday memories?
Going camping. It was all my parents could afford, but it was much more fun than five-star.

Most underrated town in Australia?
Babinda. I know I'm a little biased on this because it's my hometown, but it has a charm and friendliness about it that certainly makes it worth a visit.
When in town, you make a point of?
When in Sydney I always take time out to visit Balmoral Beach, buy a designer sandwich and sit by the water. It has a therapeutic effect that takes away all the stresses of living in a city.
Leave accrued?
Too much, which is shameful. No-one should ever have too many holidays owing. Holiday entitlements should be taken.
Always leave behind in a hotel room?
My scent and hopefully nothing else I own.
Favourite Australian hotel?
Crown Towers Melbourne. They just do it so well, in all departments.
You're away four nights – how many pairs of smalls?
At least six. What happens if the elastic breaks in one or two pairs?
Minibar – raid, replace or don't touch?
Raid the chocolates on day one and then don't touch after that. Well, that's the theory, but I've been known to indulge again as the days drag on.
Worst flight?
Cooktown to Cairns in a light plane during a fierce electrical storm. How we all survived is a minor miracle.
Worst person ever seated next to?
A large man who spent all his time in the bar during a 5hr stopover before he commenced the flight. Headphones, eye-mask and a stony stare did nothing to deter him. I can still hear him slurring his words to this day.
Person you wish you could sit next to?
Any time in George Clooney's company would be acceptable. Even if he's drunk.
Airline food – love it or hate it?
Depends which end of the plane you are travelling in, but generally I find the meals are okay. I particularly like the ice-creams on longer trips. I like ice-cream anytime, really.
Where have you just been and why?
My last trip was to Babinda and Innisfail in Far North Queensland following Cyclone Larry to co-host the Today show, which we did live out of Innisfail. It was heartbreaking to see such a wonderful part of the world so severely damaged. Thankfully, the locals are rebuilding and life is returning to normal.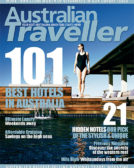 Enjoy this article?
You can find it in Issue 9 along with
loads of other great stories and tips.