Chef Stefano de Pieri on his favourite Australian travel.
Arrival Gate Stefano di Pieri
WHO: STEFANO de PIERI
WHAT: A chef and author, he's been running the multi award-winning Stefano restaurant in Mildura for 15 years. He also fronted the TV series A Gondola on the Murray.
WHERE: Gol Gol, NSW, on the Murray.
WHY: While Stefano tends to stay still, he's caused thousands to travel from all over the world to Mildura to eat at his simple restaurant. Unlike other famous chefs, he finds inspiration not in London, Paris or Rome – but here in Australia.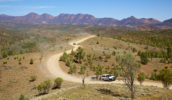 Favourite part of Australia?
Anywhere in the outback, especially if there's some water; a river or creek. I did also like parts of Northern Qld and recently went to Byron Bay and enjoyed the hinterland enormously.
Favourite iconic drive?
Melbourne through the Mallee to Mildura and the Murray. From there to Burra and SA's north through to the Flinders, passing through Claire. Quite a bit of history, different climates, the river, mining towns – pretty special, really.
When in town, you make a point of visiting?
The Golden Century in Sydney, because of the amazing seafood. They're often rude, but if you stand your ground you'll be fine. After all, the poor bastards have to cope with hordes of people like me who go there at all hours. In Melbourne I have a drink at the Gertrude Street Enoteca because they're my friends and I use it like an office away from home. Melbourne is also where my family and I like to go for Yum Cha; the closest thing, if not better, to the idea of an Italian lunch. I also try to check out whatever visual art show I can, either at a public or private gallery.
What frustrates you most about Australia's gourmet scene?
In many country places there's a lot of food but one cannot access it; it goes to market and that's that. Also, regional restaurants do not seem to keep it simple enough. They imitate city models trying to give a "gourmet" experience. The food often looks overworked. A simple and generous table should be found in every country pub, but all you get is fishermans' baskets and chicken parmigianas. It is hard to break that tradition. You have to have confidence to be different and base your difference on a clear vision. That vision comes from truly loving the country/region you are in, not simply trying to squeeze a couple of dollars out of it. There are, of course, multiple positive examples of things done well.
Also, the big boys of the wine industry make a lot of money out of the Murray and "bigi" [Murrumbidgee] water, with brands like Bin 65 and Jacobs Creek which are exported by the millions and millions of bottles, but they do not tell anyone where the grapes are grown. Our success stories are not celebrated. Why? Because some tossers, especially some wine writers, say that if it comes from an irrigated river area the wine is not good. So, on the one hand, we celebrate the overseas success of our brands, but (God forbid!) we are not telling anyone where the wine comes from. That's the most offensive contradiction of all time. The precious water of the river is made into wine. We make export money. No-one should know about it. Funny equation.
Airline food: love it or hate it?
I do not eat that stuff. I do not travel often, but when I do I find that food on board is best avoided. You recover more quickly when you get there.
As a champion of the Murray region, what are you most passionate about?
Saving our waterway, which means restoring environmental flows, saving the trees and the wetlands. The water belongs to the community, but the way it is going it may end up in private hands for the large part. That is not right, but that is where the political battles of the future will shape up.