An Arrival Gate five-minute Q&A with Tim Draxl Arrival Gate
5-Minute Q&A with . . .
Who: Tim Draxl
Where: Sydney, London, LA.
What: Actor, singer, performer.
When in town, you make a point of eating at?
When I'm in Sydney my favourite place to eat is a little place in Potts Point called Fratelli Paradiso. Somewhat of an institution. Sophisticated yet not too stuffy, famous for their calamari fritti and tiramisu.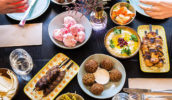 Best travel tip you ever heard?
Run late for check-in. That way they'll let you on with overweight luggage, and I always have too much luggage.
Always leave behind in a hotel room?
Leave behind: no. Acquire: yes. A tradition that began from travelling through parts of Europe with my mother. I've a collection of small ashtrays from all the hotels and restaurants we visited that'd miraculously end up in her handbag or my coat pocket.
Favourite Australian hotel?
The W Hotel [now Blue] in Woolloomooloo, Sydney. I like smaller boutique hotels.
Mini bar: raid, replace or don't touch?
Raid, replace . . . then try not to touch again.
Love or hate flying?
Yes, I generally love or hate flying.
Favourite moment: takeoff or landing?
Hate them both. In all my years of travel – and that's since I was born – takeoffs and landings still make me very nervous. But if I had to choose I'd say landing. Just knowing that I'm on solid ground again provides me with a brief moment of relief. Also the excitement of arriving at a destination with the possibility of an unforseen adventure makes the landing much more enjoyable.
Where have you just been and why?
Last trip was to London. Went over for work and got cast in a BBC sitcom, playing a cocky young Australian astronomer. It was shot in Sydney, though, so I had to come all the way home again.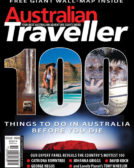 Enjoy this article?
You can find it in Issue 8 along with
loads of other great stories and tips.