Ever wondered what the secrets to the Universe are? Cruise into the blue unknown…
Beyond The Blue Horizon



Ever wondered what the secrets to the Universe are? Cruise into the blue unknown…
Gone are the days of cruising where cultivating a tan was the only agenda. There's no better place to ponder the Universe than aboard a cruise liner. The stars definitely seem brighter from the top deck. No need to peer through the haze or city lights, there's nothing between you and the sky. It's not hard to imagine we're not alone out there.
And this eight day – or should we say nine night – discovery adventure will take you on a journey through the biggest, deepest blue out there. Meridian Travel's Tasmania Gems 'Astro-Cruise' begins its maiden voyage aboard the Dawn Princess next February.
Departing Sydney on February 01, 2009, the Dawn Princess heads off to Tasmania with some extra-special cargo. Well-known Australian astrologist David Reneke will be on board to will guide you through the mysteries of the universe. News editor of Australia's Sky and Space Magazine, lecturer and ABC science correspondent, Reneke sure knows his stars. 50 years might not get you a lot of light years but in the astro-industry, it makes Reneke an expert.
Ever looked up into the sky and wondered where it all came from? How the universe formed? From our solar system over human interplanetary travel to conspiracy theories and UFO sightings, Reneke's "Secrets of the Universe" lectures series will keep you captivated.
After heading down to Tasmania, stretch out those sea legs with excursions to Port Arthur and Hobart. The trip to Southern Cross observatory will get you even closer to the stars: take stargazing to a new level with their state-of-the-art telescopes.
Don't worry if gazing at a world far, far away leaves you feeling a little alienated, spend days 4, 5 and 6 sightseeing in Hobart, Coles Bay and Burnie. The Hazards mountain ranges will get you back in touch with this world.
Or you could spend day 7 shopping or exploring in Melbourne before heading back to Sydney during the night – even though that'll possibly be a bit of a shock to the system.
Prices start at $2,229 per person for twin share cabins and include all meals on board and transfers and entry to Southern Cross observatory.
If this trip doesn't unlock all the secrets of what's beyond our big blue planet, Meridian Travel can help you get out there. Victoria's only Space Agents can book you in for one of Virgin's Galactic space flights.
For more information, check out www.meridiantravel.com.au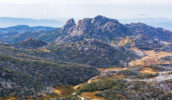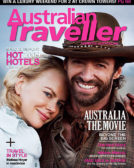 Enjoy this article?
You can find it in Issue 24 along with
loads of other great stories and tips.