Australian Traveller's Best Ten hotels, motels and backpackers under $150
AT's Best Ten Under $150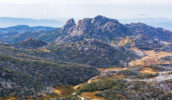 1. Shingley Beach Resort
With the world's most famous reef just off-shore, plus 74 islands to drool over via the 100 boat trips leaving weekly, it'd take a month of Whitsundays to explore everything Airlie Beach has to offer – so finding somewhere decent to base yourself on the mainland is serious business. Shingley's is close to all the action, yet far enough away to enjoy the tasty seaside atmosphere you've shelled out for without copping an earful of everyone else living it up. Probably the best value rooms are the spacious studios ($130 per couple, per night). Apartments boast split-level air-con, high-speed internet and great views. The resort faces the sun as it dips into the drink, and it's right opposite where the island boats pull anchor. Perfect.
WHERE // 1 Shingley Drive, Airlie Beach, Whitsundays
PHONE // (07) 4948 8300
WEBSITE // www.shingleybeachresort.com.au

2. The Russell Hotel
A dusty but genuine jewel lying among The Rocks, The Russell has bucket-loads of character and sits virtually in the shadow of the Harbour Bridge. In fact, you can glimpse the top of the iconic coathanger from the roof garden of the hotel, and if you duck out the front door and go a few yards down the street you can have a proper goggle at the harbour view in all its resplendence. Slap in the middle of the city, the Russell has a genuine antique feel about it. A standard double will leave you with $140 less in your wallet to blow on Rocks' souvenirs, or schooners of beer in what claims to be Sydney's oldest pub, The Fortune of War, right next door. Breakfast is included.
WHERE // 143a George St, The Rocks, Sydney
PHONE // (02) 9241 3543
WEBSITE // www.therussell.com.au

3. PK's Jungle Village 
Captain Jimmy Cook wasn't particularly enamoured with this area – having pranged the Endeavour on a reef now named after the ship, he called the cape Tribulation, "because here began all our troubles." But then he didn't have the option of chilling out with a beer at PK's. This far north (some 150km nearer the equator than Cairns) the word "boutique" doesn't feature highly in the vernacular, but PK's offers quality abodes surrounded by World Heritage-listed rainforest. Even budget options (including basic doubles for under $100) have air-con here. For a few shekels more, however, couples can enjoy a cool en suite log cabin ($110 per night). There's a lively onsite bar and nearby you can enjoy the crystal-clear Coral Sea.
WHERE // Cape Tribulation Rd, Cape Tribulation
PHONE // 1800 232 333 or (07) 4098 0040
WEBSITE // www.pksjunglevillage.com.au
4. The Cavenagh
Right in the sweaty bosom of Darwin, the Cavenagh offers quality rooms to people on their way to Kakadu and the myriad attractions offered by Australia's barmy balmy north. Before blossoming into a boutique backpackers', this was an '80s-style motel, but you wouldn't guess that now. The place positively perspires class. The whole thing revolves around the soothing respite of the hotel pool. In the bar, on the other hand, you'll commonly find the atmosphere heating up as the beers go down, such is the convivial nature of the joint. Plush en suite doubles start at $85 per night in the low season, but rise to $110 during the popular dry period. The rooms are insulated from the bar noise by distance, and boast air-con and LCD TVs.
WHERE // 12 Cavenagh St, Darwin
PHONE // (08) 8941 6383
WEBSITE // www.thecavenagh.com.au
5. The Chelsea Guest House
This surprise-package of a guesthouse peeks out from an attractive avenue in Darlinghurst where you can take a lazy stroll into the eye candy areas of Sydney's eastern suburbs, sample the pubs of Surry Hills, drink in the Harbour views from Rushcutters Bay, check out the mayhem in Kings Cross, cruise around Paddington or step it out into the CBD. Or, you could just enjoy the quality common areas of the hotel; the sublime courtyard is a particular draw. If you don't mind sharing a bathroom, doubles are $125 per night. If you can't stand the thought of sharing, en suite doubles are $143. Either way, continental breakkie is thrown in.
WHERE // 49 Womerah Ave, Darlinghurst
PHONE // (02) 9380 5994 
WEBSITE // www.chelseaguesthouse.com.au

6. Toorak Manor
Apparently "Toorak" derives from the similar Aboriginal words for "reedy swamp". But the 4WDs (aka Toorak Tractors) parked around here don't look like they've seen much mud. In fact 3142 is Melbourne's most exclusive postcode, and on these leafy streets the word "budget" isn't a common utterance. But Eddie Maguire's stint in the haughty 'hood may have reduced the rack rate a little, because you can now find fancy doubles at Toorak Manor for under $150 per night (check for regular deals). The decor's every bit as sumptuous as you'd expect in a genuine Toorak mansion, there's a garden for sipping G&Ts, a drawing room straight out of a Victorian-era novel and 18 uniquely furnished guestrooms (one with a four-poster bed). After High Tea, saunter around Toorak Village – Australia's Rodeo Drive – and window shop for shoes with price tags that would give Imelda Marcos a seizure. 
WHERE // 220 Williams Rd, Toorak, Vic
PHONE // (03) 9827 2689
WEBSITE // www.toorakmanor.net

7. Gilligan's Backpackers Hotel and Resort 
Subtle and minimalist aren't words that spring to mind as you take in Gilligan's 1000-capacity beer hall, various clubs and licensed swimming pool. The place is massive. It also offers a fistful of sleeping options, from $27-per bed dorms up. But, for a place that insists on labelling itself a backpackers, it's the 3.5 star hotel rooms that stand out. For $130 a pop they're very swish and fully self-contained, with all the essentials (yes, a bar-fridge). And you might well appreciate the haven they offer from the 24/7 full-on festival of frolicking that goes on in the rest of the resort (foam parties, cane toad racing, mini bungee jumping – and that's the quiet half of the week).
WHERE // 57-89 Grafton St, Cairns 
PHONE // (07) 4041 6566
WEBSITE // www.gilligansbackpackers.com.au
8. Angelsea Rivergums
Anglesea occupies possibly Victoria's most peachy spot, sitting on superb surf beaches right at the beginning of Australia's premier piece of tarmac: the Great Ocean Road. It doesn't get swamped by tourists like Lorne and Apollo Bay, and has surely the country's most kangaroo-tastic golf course. Oh, and a picturesque wee river runs right through it. And it's on these banks that you'll find the fantastic Rivergums. Choose between the River View Room (air-conditioned en suite with a queen and a single) and the Garden View Room (which has the same facilities, plus a kitchen). Both are $110 per night. Although it seems like a B&B set up, indulging in a breakfast will cost you more.
WHERE // 10 Bingley Pde, Anglesea 
PHONE // (03) 5263 3066 or 0448 633 066
WEBSITE // www.greatoceanroad.org

9. Adventure Bay Villa
Bruny Island, in far Tasmania's far south, is such an amazing spot that even whales sporadically try and get ashore to see it. Secluded and sedate, it's a place where you can genuinely get away from everything. Well, everything except for awe-inspiring ocean views, abundant wildlife and the kind of verdant hues only Tassie can serve up. As a result, rooms on the idyllic isthmus don't usually come with a small price tag. Adventure Bay, however, offers couples the Bay View Apartment, virtually on the waterfront, for $150 per night (or $120 per night if you stay to see two sunsets over the sultry Southern Ocean). You get to enjoy a queen-sized bed and the villa is fully self-contained – which is probably just as well on Bruny Island, where you're hardly tripping over cake shops, restaurants and pubs.
WHERE // 4 Kellaway Rd, Adventure Bay
PHONE // 1300 889 557 or 0429 831 512
WEBSITE // www.brunyisland.com

10. The Desert Palms Resort
"Centrally located" is how the Desert Palms Resort describes itself, and they ain't lying – have a look at any map of Australia. When you're in the middle of one of the hottest, driest continents on Earth, one thing you need above all else is a nice cool pool. Tick one for the Desert Palms: it has an inviting blue waterhole shaded by palms and complete with a little island in the middle that you can invade and colonise with impunity. Accommodation is in private, fully self-contained villas ($120 couple/night) with their very own bougainvillea-covered balconies and that other prerequisite of comfy living in the desert: air conditioning.
WHERE // 74 Barrett Drive, Alice Springs
PHONE //  1800 678 037 or (08) 8952 5977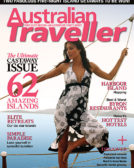 Enjoy this article?
You can find it in Issue 19 along with
loads of other great stories and tips.