Australian Traveller looks at the artistic TransmUtation of the Great Aussie Ute.
Great Aussie Ute TransmUted



More than 200 volunteers have created the world's first TransmUte – an FB Holden Ute, covered in upwards of 20,000 tiles and weighing in at a shade over two tonnes.
The amazing vehicle was completed in April 2008 after two years of hard labour – and Kate Butler, co-organiser and creator of the project, says she couldn't be more excited. "The result is a visually stunning work of art."
Butler also said the mosaic Ute would become a rival to the famous Ute on the Pole, another Deniliquin icon – featured recently in our 100 Things You Can Only Do In Australia.
Butler and co-organisers Georgia Jacobs and Nina O'Brien-Hehir transformed the Ute with the assistance of local Deni residents, many of them kids from local schools. The mosaic design itself is a depiction of local agriculture, natural and created landscapes. It includes a sunset, the Edward River, hay bales, road kill(!), the Southern Cross and many more images depicting the regional town of Deniliquin.
Since Deni already proudly holds the world record for the largest parade of legally registered Utes in the world, with 2007 bringing in a massive 6235, it's no great surprise that the TransmUte project was undertaken here – funded by the Regional Arts NSW, Country Arts Support Program.
The Mosaic Ute can be found at its permanent home on the lawns beside Peppin Heritage Centre, George Street, Deniliquin. For more info, check out www.deniutemuster.com.au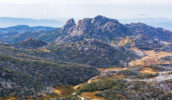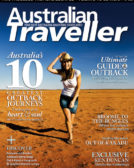 Enjoy this article?
You can find it in Issue 21 along with
loads of other great stories and tips.