AUstralia > Places of Interest > Unique Placers of Australia > Secret Places of Australia > Traveller in Australia
Latest Issue
The AT Insider – Haggling for a bed
Peter Robinson reveals the tricks to securing that hidden bargain.
Tim Fischer's Secret Spots – Lamington Plateau
Fischer has found one of the world's largest remaining subtropical rainforest reserves on Queensland's southeast coast.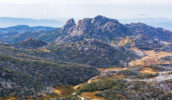 ARCHIVE
The AT Insider – Upgrade Me
AT's girl on the inside with all the tips on how to make sure your travel agent is really working for YOU.
Tim Fischer's Secret Spots – Carnarvon Gorge, QLD
Our former Deputy PM traces the meandering path of one of Central Queensland's hidden treasures.
TISM On Tour – The Rock Steady Crew
And TISM lead singer Humphrey B. Flaubert pays tribute to their all-important roadies.
The Next Big Thing – The Big Banana
In Coff's Harbour, NSW, this is the one that started it all . . .
Tim Fischer's Secret Spots – Trentham Falls, VIC
Victoria's longest single-drop waterfall, tucked deep in forest northwest of Melbourne.
The Next Big Thing – The Big Potato
Someone has laid a gigantic tur – ahem – SPUD in Robertson, NSW.
Modern Marxism – Lurid in Leura
Regular columnist Jack Marx visits Leura, NSW, and is unimpressed.
TISM on Tour – Nailed to the Cross
Rock anarchists TISM find themselves adrift in Kings Cross. Repeatedly.
Tim Fischer's Secret Spots – Walhalla, VIC
A picturesque Victorian gold town that draws travellers.
Dapin's Diary
Points North – Glimmers of the sparkling Arafura harbour prove out of reach.
The Next Big Thing – Nimbin's Big Joint is a huge drag to some visitors.
No Retreat – A survival guide to the company weekend offsite.
Reader Stories
Right in the Nose of the Barossa
The Naked Revolution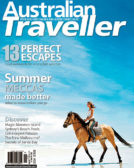 Enjoy this article?
You can find it in Issue 12 along with
loads of other great stories and tips.